The mission of the Henry Royce Institute for Advanced Materials is to help shape the materials research landscape and to form a bridge between academia and industry; a vision shared by the organisers of the Materials Research Exchange 2018 (MRE 2018) held in London earlier this week.
This two day exhibition and conference, which attracted over 1300 delegates, 75 speakers and 70 exhibitors, was organised by the Knowledge Transfer Network (KTN) and Innovate UK and supported by Engineering and Physical Sciences Research Council and Dstl. MRE2018 provided the perfect environment to help develop commercial success of UK-generated materials research and innovation.
The event succeeded in providing a platform to demonstrate the groundbreaking new materials and processes to industry with a view to accelerate the process of taking these through to commercialisation. Royce was proud be a part of this with talks from:
Regius Professor Phil Withers, the Royce's Chief Scientist
Dr Martin Jackson, Director of Aerospace Engineering at The University of Sheffield
James Baker, CEO of Graphene@Manchester
Dr Jonny Blaker, founder of the Bio-Active Materials Group at The University of Manchester
Professor Allan Matthews, Director of BP Centre for Advanced Materials based at The University of Manchester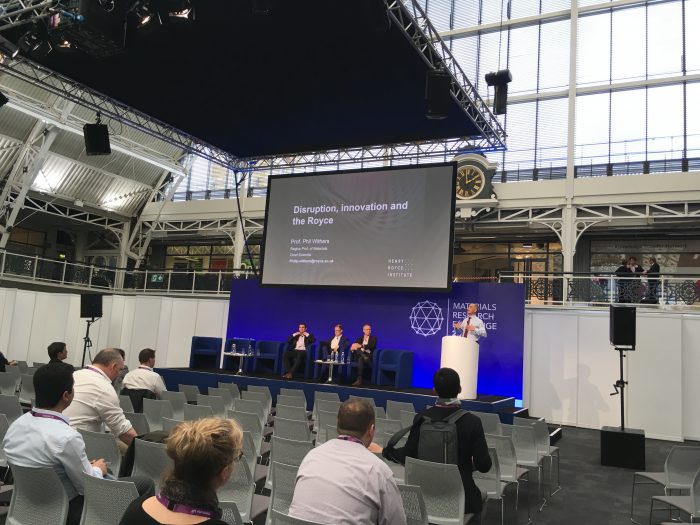 The organisers summarised the two days as "…the largest and finest materials innovation event of the year, designed BY those working in materials FOR the materials sector, to engage with key application sectors in the UK and beyond!"
A range of UK universities, research organisations and SMEs were exhibiting at MRE2018 and collectively demonstrated the wealth of materials in development from both academic and industrial research groups. The Royce was able to showcase the great research being done by our partners to the business and advanced materials communities; with stands from Sheffield – Advanced Metals Processing, Liverpool – Chemical Materials Design, Leeds – Atoms to Devices, Oxford – Energy Storage and Manchester- Biomedical Materials, Material Systems for Demanding Environments, Nuclear, and 2D Materials, all projecting that the Royce is open for business.
The exhibitions provided an ideal opportunity to absorb current trends and future innovations. It was truly unique atmosphere that enabled direct engagement between senior representatives of government, major investors, top industry players and senior scientists to startup companies, product designers and SMEs as well as brilliant early career researchers.
The image gallery below provides a taste of the event's activities.