The University of Sheffield
The University of Sheffield was founded over a hundred years ago, founded on the aspirations and financial support of the people of Sheffield. Today the university is a global community whose citizenship stretches around the world into over 140 countries. The University activities continue to be based on its values and rooted in its founding principles, with 5 Nobel prize winners among former staff and students. A member of the Russell Group of leading research-led institutions, offering world-class teaching and research excellence across a wide range of disciplines.
The Royce Translational Centre
The Royce Translational Centre acts as an open access centre of excellence, incorporating both new and existing state-of-the-art powder manufacture and processing facilities.
The Centre enables the University of Sheffield to lead on advanced powder manufacturing and processing to transfer knowledge and experience, gained from working with industry, to SMEs active in the healthcare, energy, oil, and gas, manufacturing and engineering supply chains.
The Royce Translational Centre, based at the University of Sheffield Innovation District, evolves novel materials and processing techniques developed by research teams, making them accessible for trial by industry.
If your business operates within the manufacturing and engineering supply and value chain, the Royce Translational Centre provides direct access to emerging technologies.
This allows a measured assessment of the applicability, and threats to, existing markets that these technological advances present, and drives specific research activities which provide direct benefit to your business as the outcome.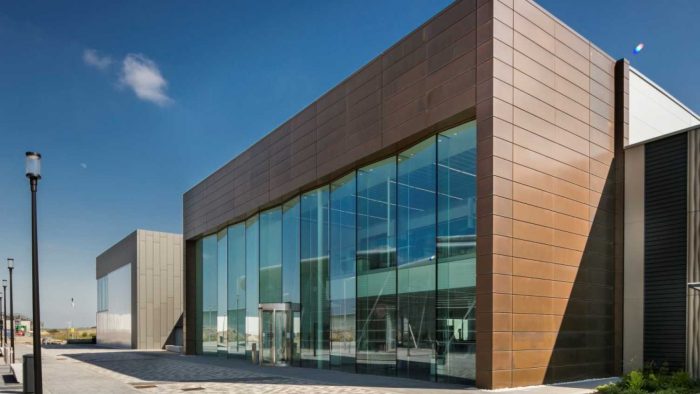 The Royce Translational Centre, University of Sheffield
For some, the state-of-the-art facility offers R&D options that would previously have been inaccessible. For others, the Royce Translational Centre enables businesses to perform speculative research so that in-house research facilities can remain focused on processes that are closer to market.
Once proven, your company can invest in these manufacturing processes with the confidence that value is added to both your business and your customers.
The Royce Discovery Centre
The Royce Discovery Centre, based at the University of Sheffield City Centre Campus, focuses on early-stage research on materials discovery and processing.
The facility takes materials and processing concepts, and develops these from basic principles through analytical and experimental processes, with the aim of proving the concept in terms of feasibility and applicability for industrial use.
Housing state-of-the-art specialist laboratories, workshops, and office spaces, the Royce Discovery Centre draws on expertise present within the Royce team and the Department of Materials Science and Engineering, to provide real solutions in the discovery and creation of innovative material systems.
Collaborative knowledge from our researchers has enabled the smooth transition in taking product and process ideas from initial concept, through development, testing, and optimisation, to industry trial. Our facilities accelerate end-to-end research activities, whilst also offering access to equipment or services at any stage of the process.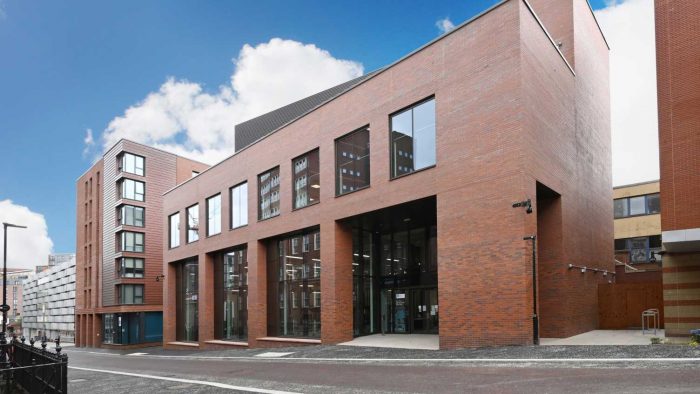 The Royce Discovery Centre, University of Sheffield.
The Royce Discovery Centre and the Royce Translational Centre work in tandem with the Engineering Faculty facilities to further enhance the University of Sheffield's status as a world leader in the science and development of materials processing.
This theme will deliver a step change in the discovery and making of new material systems. Our researchers are creating alloys with higher performance, better manufacturability, greater flexibility and lower cost. Metals production consumes about 5% of global energy use and is responsible for an annual emission of more than two gigatons of CO2, so our systems will also have lower environmental impact – reduced CO2, reduced reliance on strategic elements, designed for whole life cycle. Advanced Metals Processing will feature agile and lean manufacturing, which is flexible and tailored to customer requirements. Our academics will have the ability to make alloys at a scale that is relevant to research and to upscaling for industry needs. Application areas include: Light weight system solutions for transport industry; New steels for nuclear industry; Net shape aerospace components; Additive repair of high value components; Materials tailored for orthopaedic applications; Primary metal suppliers for automotive manufacturers; Primary metal suppliers for aerospace component manufacturers, gas turbine suppliers. Research and development into advanced materials, which underpins all manufacturing sectors, is essential to UK economic growth. Advanced engineering materials are critical to the international competiveness of UK industry, particularly in the energy and transport sectors. By taking an applications-led approach, addressing the industrial needs, collaborating universities and industrial partners will be able to accelerate the maturation of advanced materials processing and new knowledge of degradation. Getting new materials to market can often take more than twenty years; with the Translational Centre opening up the UK's expertise in materials research to industry and an applications-led approach we know that we can halve that.