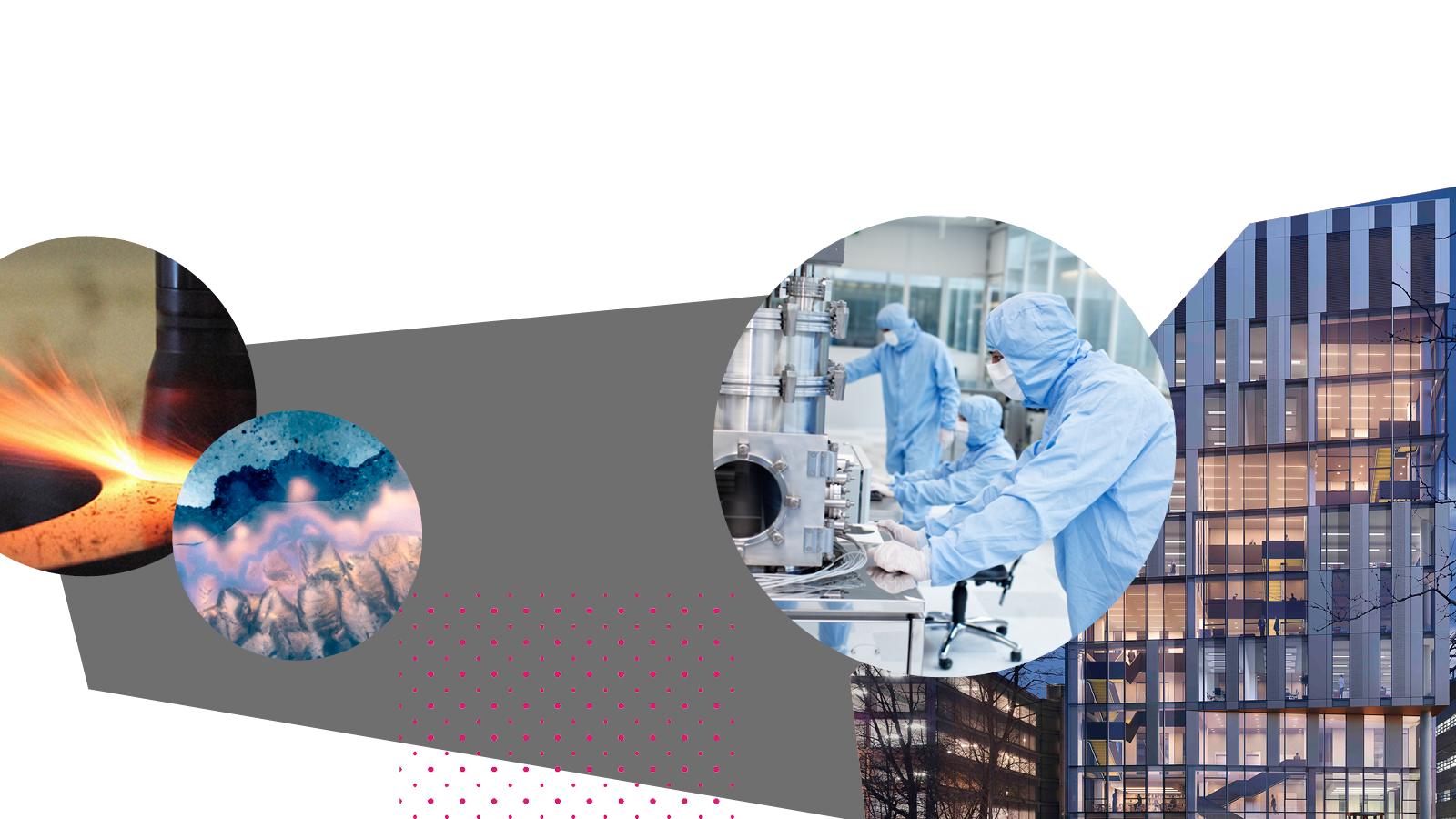 Our Impact
Societal and economic benefit through materials innovation
Supporting the development of superior quantum optics to improve the efficiency, fidelity & speed of Quantum Computing and Quantum Networks, through access to state-of-the-art facilities.

Supporting the development of the next generation of small, reliable, and energy-efficient devices through the Royce industrial collaboration programme to deliver fully functional samples and reduce C02.
Investigating the thermal, mechanical, and dielectric properties of various insulation systems used in aerospace and automotive applications to locate and image failure locations.

A new manufacturing research hub will help revolutionise the industry and reduce the environmental impact of steel production – currently responsible for 9% of global CO2 emissions from fossil fuels. 


Two alloys were made using Royce expertise and equipment to evaluate the effect of Chromium (Cr) on precipitation, ferrite fraction and morphology. They were also reheated and isothermally transformed, while the reheating temperature was changed to evaluate their effect on the tensile properties.

Royce researchers will help make nuclear power cleaner, cheaper and safer – working with international industry to better understand the performance of critical components in the fuel assemblies of reactors.


Royce researchers at the University of Leeds acted as expert witnesses for GSK in a patent dispute, using state-of-the-art electron microscopy to map particles in an inhaler powder used to treat progressive lung disease. 


Royce microscopy capability gives new insight into solid-state battery lifetime and stability – critical for next generation energy storage, from devices to transport. 


A prestigious research Chair will develop next-generation coatings for use in aero gas turbine engines, working with Rolls Royce to improve environmental, performance and fuel efficiency standards. 

Royce researchers will help make batteries lighter, cheaper, safer and more efficient – understanding the all-solid-state battery, critical to developing batteries required for the electrification of vehicles. 

Read more

Access to the Royce High-Voltage Electrical Characterisation Suite enabled Cambridge GaN devices to characterise transistor prototypes to exploit the new emerging material's semiconductor capabilities.
Researchers at the University of Leeds are benefiting from the Henry Royce Institute's pioneering deposition equipment to make efficient memory devices using supercomputers.

EC-OG received funding and expertise from the Henry Royce Institute to perform metallographic examinations using Royce facilities at the University of Oxford's Materials Characterisation Service (OMCS).

QV Bioelectronics Ltd is developing a pioneering electrotherapy implant for the treatment of glioblastoma multiforme that aims to transform patient outcomes.

The University of Sheffield's Arcast 200 Arc Melter has produced tungstentantalum alloys in complete solid solution using a novel processing method. This will be the focal point of research to investigate the effect of a nuclear fusion environment through helium plasma exposure and helium ion irradiation.

The University of Sheffield's Functional Materials and Devices (FMD) Group has utilised the expertise and equipment of the Henry Royce Institute to develop novel Lead Oxide (PbO)-free high energy density capacitors, which are currently undergoing prototype testing with UK-based multilayer ceramic capacitor (MLCC) manufacturers.