In February, colleagues from across the Henry Royce Institute's national partnership travelled to London to showcase the Institute's progress to over 800 members of the materials community at the biannual Materials Research Exchange (MRE).
Organised by the Knowledge Transfer Network, the Materials Research Exchange (MRE) aims to accelerate the commercialisation of materials innovation; fostering a culture of collaboration between researchers, entrepreneurs, industry and government.
As headline sponsor for the MRE, the Royce Hub and our nine partners demonstrated groundbreaking work across the spectrum of advanced materials including automated testing at the University of Liverpool and sustainable manufacturing at the University of Sheffield.
Opening the event at the International Evening on the 18th February, Royce CEO Prof David Knowles declared the Institute as being 'Open for Business'. As a 'single front door' to materials community, the Royce provides access to state-of-the-art equipment and expertise to industry and academic users.
Advanced Materials for a Sustainable Society
In his plenary speech on the 19th February; Prof Philip Withers, Chief Scientist at the Royce declared;
'there is no better time to become a materials scientist'
His comments reflected the mood of the conference, acknowledging that key development in materials science are required to solve our most pressing global challenges.
In Royce's afternoon academic conference, Prof Knowles launched the Institute's new vision of 'Advanced Materials for a Sustainable Society'. The Royce's challenge-driven research in areas such as 'Low Carbon Power' and the 'Circular Economy' aims to accelerate the commercialisation of materials research and deliver positive impact for the UK and globally.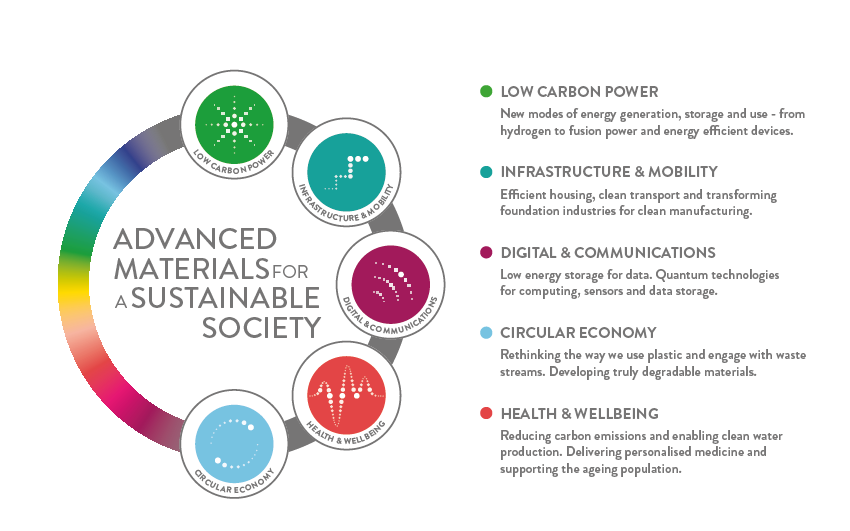 From bioelectronics and plastics sustainability, to energy efficient devices; during this session, the Royce posed the challenge of developing truly sustainable societies to the materials community.  The session shared research that will help to unlock the potential in key areas including Fusion Energy, Quantum Technology & Energy Efficient ICT. Full programme available here.
Reflecting on the event and the journey of the Royce since the previous MRE in 2018, Prof Knowles commented:
'We having come away from MRE 2020 with stronger ties to our internal partnership and the materials community as a whole. The Royce is now truly open for business. This year we will expand our infrastructure with the opening of new Hub Building in Manchester and other national Royce facilities in Oxford, Sheffield and London. We can now look to address challenge-led research that will have positive impact on UK and global citizens'.
Enquiries
Mia Belfield
Communications & Engagement Officer
E: mia.belfield@royce.ac.uk
T: 0161 306 7585