On 28 September, The Henry Royce Institute outreach team attended Leeds Museums and Galleries Discovery Centre to participate in a research workshop to investigate the materials properties of over 230 antique umbrellas and parasols, some of which date as far back as the late 18th Century.
The extensive collection of umbrellas and parasols had recently undergone a curatorial review with the help of a group of students from the University of York.
The workshop featured experts from a range of backgrounds including historians, conservators and textile specialists alongside students from the University of York who had assisted in the curational review.
Workshop participants collaboratively explored the significance and use of the artefacts, building a picture of not only how the objects have changed over time due to fashion trends, but also how new materials have affected their evolution.
Dr Alice la Porta, Outreach Officer at The Henry Royce Institute said:
'This workshop was a fantastic opportunity to engage Outreach at Royce with different disciplines including Humanities and Social Sciences, providing a platform for materials science and its uses, and collaborating with new communities '
Investigation of the objects helped the workshop team to understand the processes used to create the umbrellas and parasols and to speculate on the conditions and purpose of their use, for example to protect their owners against the elements or to make bold fashion statements.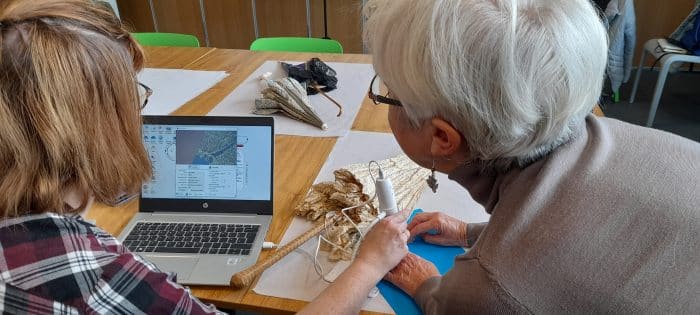 Outreach at Royce's participation demonstrated how materials scientists can aid museums and cultural institutions in their initiatives through a series of characterisation activities to identify the materials used in the artefacts.
The workshop also provided an opportunity to demonstrate how activities commonly used by materials scientists can be exploited by other academic communities such as the arts, humanities and social sciences.
Dr Cordula van Whye, Senior Lecturer in Art History at the University of York said:
'Alice helped identify and interpret a wide range of materials used for parasol handles such as ivory, bone, metals, wood and early plastics. Her scientific insight into the composition and qualities of these materials helped to forge the larger stories these objects tell'.
This was utilised in the workshop to explain why such diverse materials were used to manufacture umbrellas and parasols through the 18th and 19th centuries, providing complementary context to support conclusions around durability and fashion which facilitated the debates about class and social status.
The workshop also demonstrated the importance of understanding the materials and properties of commonplace objects, and how this has been done through history to achieve a range of objects differing in their quality and style.
Materials science can provide unique perspectives on how objects are made and used, giving clues to the longevity of an item, its purpose and how knowledge of an object's different properties can be used to support research into new advanced materials to improve performance.
The Royce outreach team joined a workshop involving a multi-disciplinary analysis of a collection of antique parasols and umbrellas. This allowed for an opportunity to collaborate with individuals from a variety of backgrounds and demonstrated the valuable input materials scientists can offer.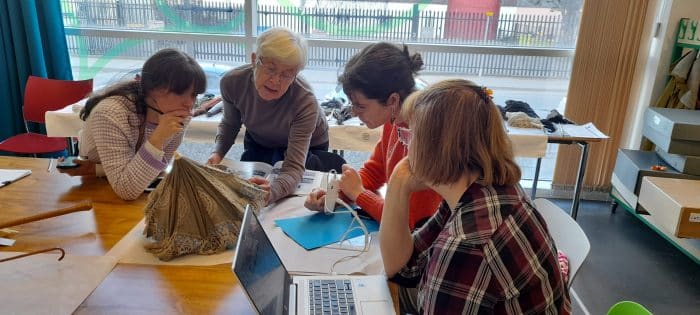 Outreach at Royce
As the UK's national institute for advanced materials, Royce is committed to inspiring the next generation of materials scientists and engineers into the field. Alongside providing access to our national cutting edge research facilities, Royce is actively fostering an engaged learning community in materials science and engineering throughout the UK. To find out more about outreach at Royce visit: https://www.royce.ac.uk/outreach/
Enquiries
For outreach enquiries contact:
Alice La Porta
Alice.laporta@royce.ac.uk
National Public Outreach Officer | Henry Royce Institute