Royce is delighted to announce that Indro Mukerjee, CEO of Innovate UK, and Dean Cook, Innovate UK's Director for Place and Levelling Up, visited the Henry Royce Institute hub building in Manchester yesterday, 6 September.  Royce CEO Professor Dave Knowles and Chief Scientist Professor Phil Withers hosted the visit, which included presentations and discussions about the scope of Royce activities.  The Innovate UK representatives also toured various Royce facilities, including the Royce Hub building, Alan Turing building, and National Research Facility for X-Ray Computed Tomography (NXCT).
The Innovate UK agency supports business-led innovation in all sectors, technologies and UK regions. It helps businesses grow through the development and commercialisation of new products, processes, and services, supported by an outstanding innovation ecosystem that is agile, inclusive, and easy to navigate.  With a strong personal interest in the development of skills for industry, CEO Mr Mukerjee previously cofounded the UK Electronics Skills Foundation and served on the Board of the Science, Engineering and Manufacturing Technologies Alliance (SEMTA), now known as Enginuity.  His visit is timely as Royce has just published a major SME survey, aimed at supporting SMEs on their innovation journey to develop the advanced materials that will contribute to the game-changing products, services and engineered solutions that will improve all our lives.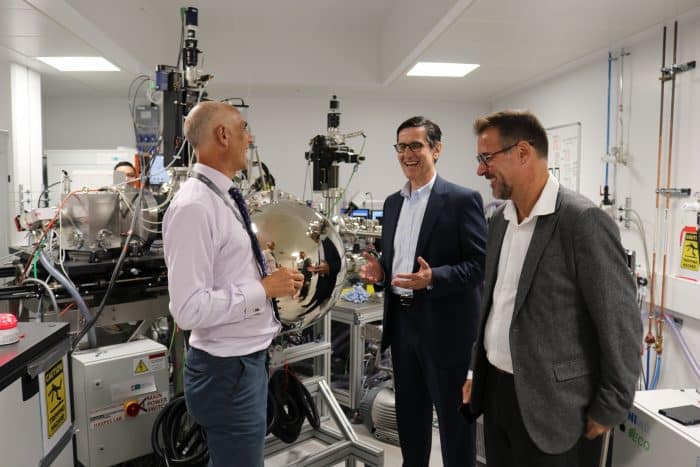 Royce Chief Scientist Phillip Withers with Indro Mukerjee Innovate UK CEO and Dean Cook, Director of Place and Levelling Up.