Overview
Stand Out Skills is a webinar series for early career researchers working in materials science disciplines. Hosted by experts, each episode will explore useful presentation, communication, or career skills for researchers which aren't normally taught as a part of traditional education pathways for materials scientists.
The Stand Out Skills webinars offer you the opportunity to learn a host of new abilities that complement your research career, including how to build your own research website, improve your academic CV and utilise new technologies to present your work more effectively.
The series will support your early career journey and help you to build a repertoire of valuable new skills to distinguish yourself and thrive in your research community.
About the Webinar
Standards are an agreed way of doing something; built through consensus, standards impact on almost all aspects of our lives. The British Standards Institution is the national standards body for the UK, and by defining good practice, they help people, business and the economy. Furthermore, in a heavily regulated space such as the built environment, standards can be used to demonstrate compliance with regulations.
In this session, Emma Glass will provide an overview of the role of the national standards body, highlighting key standards to be aware of and how you can get involved in standardisation. The aim of the session is to provide an introductory taster to standards, giving you with the knowledge and tools you need for future innovation.
About the host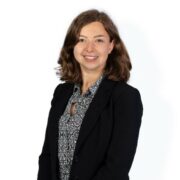 Emma Glass is the University Partnerships Manager for Healthcare Technologies in the Knowledge Solutions division of the British Standards Institution (BSI). She is responsible for engaging with universities in healthcare technology research and innovation to promote participation and raise awareness of standards and standards development. Recent work includes creating an interactive workshop for Biomedical Engineering students on the value of standards in healthcare and collaborating with leading healthcare universities on innovative research projects. Prior to working at BSI, Emma launched new open-access science journals in digital health, nuclear medicine and radiology. She also authored CBP's Big Data Focus Report in 2016 and 2017. Emma has a degree in English Literature from the University of Exeter.