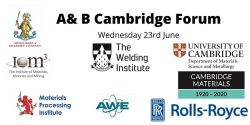 The 2021 Armourers and Brasiers' Cambridge Forum will be held remotely on Wednesday 23rd June 2021. The afternoon programme includes talks, the award of the Armourers & Brasiers' Materials Science Venture Prize, displays of current research, and the 22nd Kelly Lecture which will be on 'Sustainable Metals'
The forum brings together researchers from universities, industry and research funding bodies to hear about the latest developments in Materials Science. The Forum is hosted by the Department of Materials Science & Metallurgy at the University of Cambridge, under the auspices of the Armourers & Brasiers' Livery Company, and is generously supported by leading organisations active in the materials field.
In addition to the afternoon of talks, there information on current research in the Department, exhibitor booths, and an opportunity for free-roaming networking – all online. The Forum culminates in the Kelly Lecture, this year given by Professor Dierk Raabe, Director of the Max Planck Institute for Iron Research (Düsseldorf) on 'Sustainable Metals'. In this 100th anniversary year of the Department, the Forum begins with an overview of a century of materials research at Cambridge, and the programme features distinguished alumnae.
Agenda available here, with further details available via the University of Cambridge Department of Materials Science and Metallurgy