Matrix-assisted laser desorption ionziation mass spectrometer (MALDI-MS) Bruker AutoFlex
Soft ionization Mass Spectrometery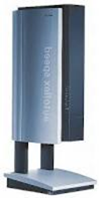 This Matrix Assisted Laser Desorption Ionisation – Mass Spectrometer is suitable for a wide range of samples from intact proteins to polymers.
Detailed Description
Matrix selections is key to obtain good results. It is a destructive technique.
As the mass spectrometer is coupled to a powerful laser, it is capable of measuring high mass ranges that are not possible with a traditional ESI/APCI source.
MALDI Perpetual Ion Source
Pulsed Ion Extraction
Bruker Smartbeam technology
MS/MS capability
ToF analyser for linear and reflectron measurements
Ground Steel, Anchor Chip and Polished Steel target
Enquire now
Fill in the form and a member of the Royce team will be in touch.
Thanks for your message, it has been sent.