BioLogic 1 VSP Chassis with 5 Potentiostat / Galvanostat board with EIS(/Z) option
Potentiostat with Electrochemical Impedance Spectroscopy
A versatile, research grade, multichannel electrochemical workstation.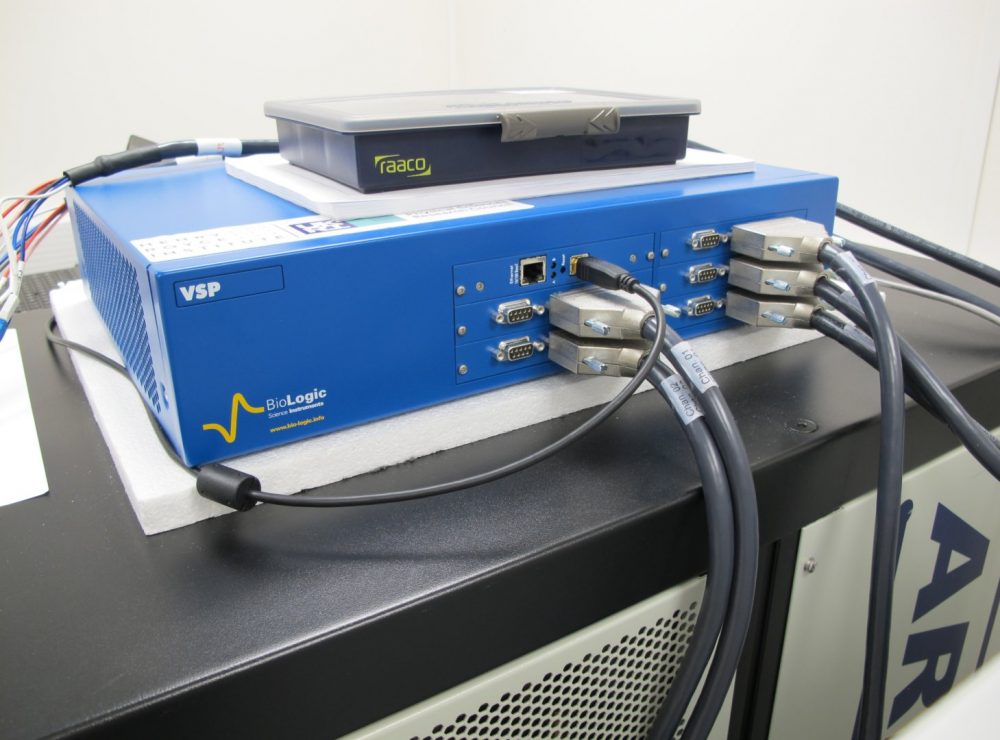 Partner:

University of Oxford

Availability:

Available
Enquire Now
Detailed Description
This highly modular electrochemical-workstation can reply to the needs of all scientists with options for EIS capability, low current, high-current booster and additional potentiostat channels.
The internal 4 A option takes two slots in the VSP chassis and requires a potentiostat board. External boosters from 2 A up to 100 A can be used with each channel in the VSP.
Uses/Applications
Electrochemical testing
Control voltage: ±10 V adjustable between[-20; to +20] V (standard); up to 60 V with FlexP0060/FlexP0160
Voltage resolution: 5 µV on 200 mV range
Compliance: ±10 V adjustable between [-20; to +20] V (standard)
Current ranges: 400 mA to 10 µA (standard); down to 1 nA (Low Current)
Maximum current: ±400 mA; up to 800 A with four FlexP0012
Current resolution: 0.760 nA; down to 76 fA (Low Current)
Frequency range: 1 MHz down to 10 µHz
Enquire now
Fill in the form and a member of the Royce team will be in touch.
Thanks for your message, it has been sent.