3D X-ray Computer Tomography Scanner
Nikon Xtek 320/225 kV bay
Our three Nikon Metrology systems are best suited for larger samples, from a few mm diameter to approximately 20 cm diameter. With their high-power 225 kV and 320 kV x-ray sources, they can achieve transmission of sample up to approximately 30 mm steel. Our two walk-in bay systems are additionally well suited for in-situ work, using one of our in-situ rigs.
Nikon Metrology 320 kV walk-in bay: ("Custom Bay") For larger samples of a few cm diameter and up to 80 cm total length. With the powerful 320 kV source, this instrument is best suited for higher-attenuating materials, such as metals and larger rocks. Depending on the imaging energy, a resolution of 30 microns can be achieved. Alternatively the bay can be equipped with a 225 kV source, which allows us to image lower-attenuating material and achieve a higher resolution. The "Custom Bay" also works well with our larger in-situ rigs.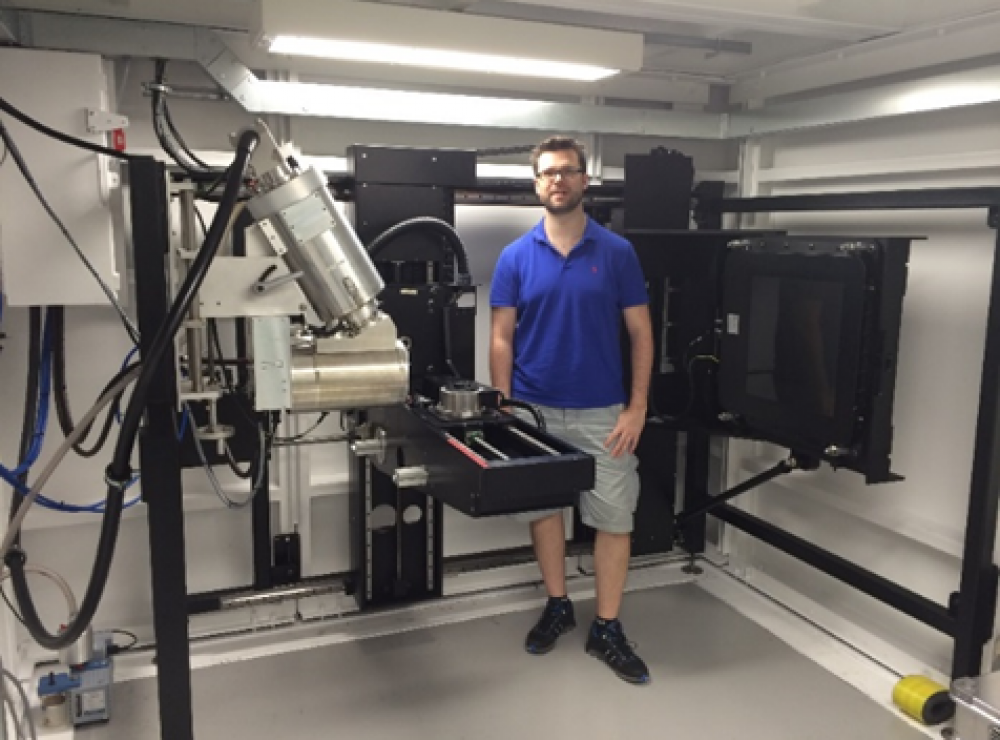 320225Nikonbay
Detailed Description
The 320/225 kV Bay is a custom-built walk-in bay designed specifically for the application of in-situ rigs. The heavy duty 5-axis specimen manipulator stage is capable of supporting specimens of 100 kg
Specifications
Three interchangeable X-ray sources:
•The 225kV static tungsten transmission anode source
•The 320 kV static tungsten reflection anode that allows the analysis of larger and denser specimens
•The 225 kV static multi-metal reflection anode source has the option of copper, molybdenum, silver and tungsten targets
High speed detector 2k x 2k Perkin Elmer 1621-16-bit amorphous silicon flat-panel detector (XRD 1621 AN3 CT grade) fitted with an aluminium window. The detector is fitted on a movable arm that can be remotely controlled and Suitable for a wide range of X-Ray energies: 40 kV — 15 MV
Labyrinth are available for the external control and monitoring of user-installed equipment
Enquire now
Fill in the form and a member of the Royce team will be in touch.
Thanks for your message, it has been sent.