The Henry Royce Institute has celebrated the opening of a major new facility for the characterisation of advanced materials and systems, which promises to accelerate UK innovation.
The new facilities, based within the Alan Turing Building at the University of Manchester, include a range of capability, from high resolution imaging and chemical characterisation to nanoscale engineering of materials to help optimise their properties for use in next generation devices.
The capability will help push new boundaries across a wide range of innovation, including chemical materials, nuclear research, biomedical innovation, nanomaterials and novel coatings. It will support applied research and innovation across industries as diverse as aerospace and pharmaceuticals, energy and electronics.
In a conference to celebrate the launch of the facilities, the University of Manchester hosted leading academics from the UK, Canada, Italy and Australia, exploring the potential of equipment, some of which represents the first in the world of its kind.
Speaking at the celebration, Professor Martin Schröder, Vice President of the University of Manchester and Dean for the Faculty of Engineering and Physical Sciences, said:
The new Royce facilities, here within the Alan Turing Building, indeed are at the heart of the University itself – with the Royce Hub next door, MECD and the National Graphene Institute nearby. The collaborative ethos is already evident, in the ground-breaking work to design and commission much of the new equipment, working with manufacturers, researchers, experimental officers and industry. These facilities are an ongoing commitment, which we will continue to make available through the Royce.
The facilities include the first high throughout lab-based Hard X-ray Photoelectron Spectrometer (HAXPES). The HAXPES can measure composition, layer structure and chemistry from the surface down into the bulk of the material – previously only possible with access to a synchrotron facility. Dr. Giancarlo Panaccione, IOM-CNR Trieste, a leader in HAXPES joined the opening celebration to speak about the potential of the new equipment.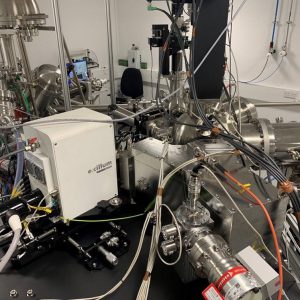 In addition to characterisation capability, the facilities include the Platform for Nanoscale Advanced Materials Engineering (P-NAME), enabling researchers to implant ions into materials in precisely defined regions with 20 nanometre resolution. Another international academic, David Jamieson, Professor of Physics at the University of Melbourne, marked the addition of the P-NAME with a keynote speech on the potential of quantum computing.
To finish the event, over 50 students displayed posters covering their areas of advanced materials research. Part of the Henry Royce Institute, the UK national centre for advanced materials, the facilities are open access, available to support research and innovation with both industry and academia.
For more information about accessing the new advanced materials characterisation facilities, contact the Henry Royce Institute at info@royce.ac.uk