Barkey to lead the UK national institute for advanced materials until December 2018
The Royce to invest £48m in materials science capability over the next 12 months
The Henry Royce Institute for Advanced Materials has appointed Chris Barkey FREng as its Chief Executive.
Chris joins the Royce having previously held a number of senior positions in a 30-year career at Rolls-Royce, including Group Director, Engineering and Technology. He will lead the Institute's development as a national centre for excellence in materials science research and innovation.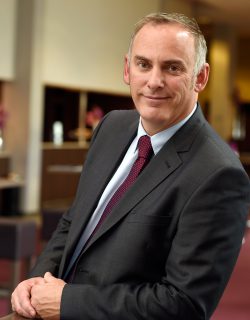 Chris said, "I'm delighted to be joining the Royce as it continues to invest in the UK's world-leading advanced materials capability."

"The Institute's role in exploiting new research is vital to delivering innovation that will be felt in our everyday lives, across a range of sectors from manufacturing and transport, to energy and health."
The Henry Royce Institute and its nine founding Partners will make accessible more than £330m of advanced materials facilities and equipment by 2020, when its new national hub opens at the University of Manchester.
Chris added, "The Royce's ethos of collaboration, between academic partners and industry, is fundamental to its ambition. My focus is on growing those opportunities to collaborate that will accelerate innovation and create positive impacts across the UK."
In his time at Rolls-Royce, Chris was responsible for engineering across a portfolio of civil aerospace, defence aerospace, marine, nuclear and power systems businesses.
He will take up the Chief Executive position on an interim basis until December 2018, working closely with Royce Chief Scientist, Regius Professor Philip Withers, and Chair, Baroness Brown of Cambridge.
Baroness Brown said, "Chris brings a wealth of senior management and leadership experience in one of the UK's iconic engineering companies.

"He will also bring a user perspective to the role of Chief Executive which will help align the Royce with industry and create new models to drive commercial benefit from materials innovation."
The Royce brings together an interconnected set of research facilities across its Partner institutions; the Universities of Manchester, Sheffield, Leeds, Liverpool, Cambridge, Oxford, and Imperial College London, as well as the UK Atomic Energy Authority and National Nuclear Laboratory. Each Partner champions a core research area, providing leadership by working with related organisations in the field and identifying new challenges and capability gaps.
As a national institute, the Royce facilities are technically supported and available to UK academics and to industry.
Professor Philip Withers said, "The UK has traditionally been host to many islands of excellence in materials science. The Royce is creating a more connected eco-system for research, which will help new technologies move more quickly to a commercial realisation."

Professor Withers added, "Bringing Chris on board will help to ensure that the Royce delivers what industry needs; a flexible offering to help innovate and meet the advanced materials challenges of SMEs and multi-nationals".
Notes for editors
Press enquiries
Matthew Davis, Communications and Engagement Manager
matthew.davis@manchester.ac.uk
M: 07787284067
T: 01613067575
About the Henry Royce Institute
The Henry Royce Institute is the UK national centre for research and innovation of advanced materials.
The Royce represents the UK materials community and invests in national research capability across a range of themes. A total of £250m funding has been allocated to the Royce to date by UK Government, to deliver world-leading facilities that are accessible to academics and businesses of all sizes. A further £80m has been contributed by its founding Partner institutions.
More than just capital investment, the Royce will support collaboration between researchers and companies to drive economic and societal benefits for all. As a national body, the Institute will be an international flagship, drawing the best researchers and major investment into the UK materials field.
The Royce incorporates nine founding partner institutions which will each act as champions in their research areas, supporting and collaborating with the wider academic community. A new Royce 'hub' building at the University of Manchester will act as a focal point, engaging government, business and the public.
The Henry Royce Institute – founding partners:
Cambridge (Materials for Energy Efficient IT)
Imperial College London (Atoms to Devices)
Leeds (Atoms to Devices)
Liverpool (Chemical Materials Design)
Manchester (2D Materials, Biomedical Materials, Nuclear Materials, Materials Systems for Demanding Environments)
National Nuclear Laboratory (Nuclear Materials)
Oxford (Energy Storage)
Sheffield (Advanced Metals Processing)
UK Atomic Energy Authority (Nuclear Materials)
In addition to representing the UK materials community, the Royce will provide SMEs and spinouts with access to research labs and expertise that would normally only be accessible to major multi-nationals. This will enable smaller enterprises to underpin innovation and commercialisation in the field, as well as capitalising on the UK's leading position in materials research.
As the Institute moves into its operational phase, it is proactively engaging with academic and research institutions and businesses, to shape its strategy and open up its expertise to all stakeholders.
For more information about the Royce, its equipment and facilities and its current areas of research focus, visit www.royce.ac.uk.