The UK's surface engineering community convened 12-13 October at the Royce Hub Building in Manchester for the IOM3 Surface Technology Innovations for Net-Zero by 2050 conference.
The event presented an opportunity for surface technology researchers from across the country to align strategically on challenges around Net-Zero. Keynote lectures were delivered at the event by Professor Philip Withers (Chief Scientist, Henry Royce Institute), Dr Robert Quarshie (Head of Materials, KTN) and Dr Neil McSporran (Global Portfolio Director, NSG Pilkington), along with presentations and panels from esteemed researchers and leaders in industry.
Topics covered at the event ranged from digitalisation in advanced manufacturing and surface engineering, advancing innovation in foundation industries and new research in degradation and hot corrosion. Royce technology platform lead Dr Christine Chalk (Cranfield University) presented a session on EB-PVD Deposition of Thermal Barrier Coatings for Ultra-High Temperature Service on day two of the event.
The conference also yielded the opportunity for the community to celebrate the achievements and career of long-standing Editor in Chief for the Surface & Coatings Technology journal Professor Allan Matthews, FREng.
Professor Matthews was honoured for spending 35 years as an editor of Surface & Coatings Technology and was presented a lifetime achievement award at the event for his pioneering research track record in the field of surface engineering.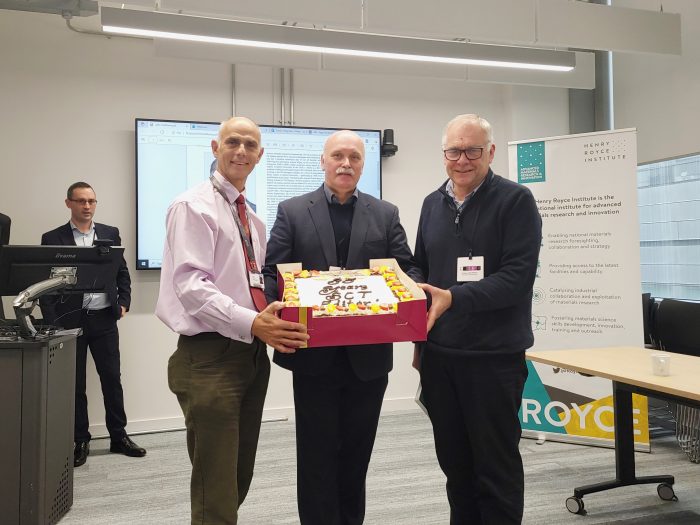 Prof. Matthews was amongst the first to explore plasma-based enhancements to Physical Vapour Deposition (PVD) coating processes as well as to develop methods for evaluation of hard coatings. His understandings of surface contact mechanisms and wear process phenomena in tribology have led him to develop advanced coating design methodologies and to construct computer-software based algorithms for coating and treatment selection – areas of research in which he has been a pioneering influence from the 1980's until the present day.
Citing his research into plasma-assisted PVD coating technologies and tribological coatings test and evaluation techniques as key contributors to the award, Prof. Philip Withers and Dr Aleksey Yerokhin (Board Member of Surface & Coatings Technology) presented Prof. Matthews with the award and a cake to mark the celebration of this achievement.
Dr Aleksey Yerokhin, Board Member of Surface & Coatings Technolgy said:
'It is mainly thanks to Allan's remarkable dedication, professional ethics, collegiate and supportive approach, that Surface & Coatings Technology has become a trusted, dynamic and impactful platform for dissemination of information on important achievements in Surface Engineering, popular and respected in the science and engineering research community'.
A special issue of the Surface & Coatings Technology journal honoured Prof. Matthew's thirty-five years of service. 40 scientific papers contained within the special issue were provided by Prof. Matthew's colleagues and their research groups from around the world – for whom Allan's vision, research and educational leadership, friendship and support have been instrumental and inspirational in the development of their own research careers.
Find the digital edition of the Surface & Coatings Technology Journal here.