The Henry Royce Institute outreach team joined the University of Manchester's Faculty of Science and Engineering at their annual ScienceX showcase, hosted this year at Central Library, Manchester on 28-29 October. Royce delivered a fun and inspiring package of outreach activities to families and students from the Greater Manchester area with a focus on materials and sustainability.
Alice La Porta, Outreach Officer at Royce said:
Royce Outreach aims to help pupils, families and the public learn more about Royce, our research, and the contributions of materials science to a more sustainable and greener society. We do so by participating in science festivals, school visits, and community projects and by welcoming visitors and school groups to our Hub Building to learn more about the wonders of materials science!
Drawing on research and innovation presented in the joint Royce and IOM3 report UK 10 Point Plan for a Green Industrial Revolution, Royce demonstrated the contribution of materials science and engineering (MSE) to creating a sustainable society.
Royce activities delivered at the event demonstrated how research and innovation in materials science can improve and renew the methods we use to produce or capture energy, store it through infrastructure across the UK and then deliver it sustainably to our society.
Younger guests could make their own paper wind turbines and learn about the advanced materials which go into improving the lifecycle and efficiency of this technology.  A paper maze matching sustainable energy sources up to different infrastructure technologies such as buildings, cars and public transport taught guests about where and how generated energy is stored and distributed and importantly the how MSE research is being adopted in different areas to support the use of new energy systems.
Finally, the Royce stand featured a live demonstration of how electrolysis can be adopted to power hydrogen vehicles, with a model car fitted with a water electrolysis cell to generate fuel and power its engine. The car was presented alongside more detailed information about the materials used when scaling up this technology into proton electron membrane (PEM) technology.
The Royce outreach team were joined by PhD students from the Universities of Manchester and Liverpool and got the opportunity to inspire the next generation of materials scientists with fascinating activities related to their own research.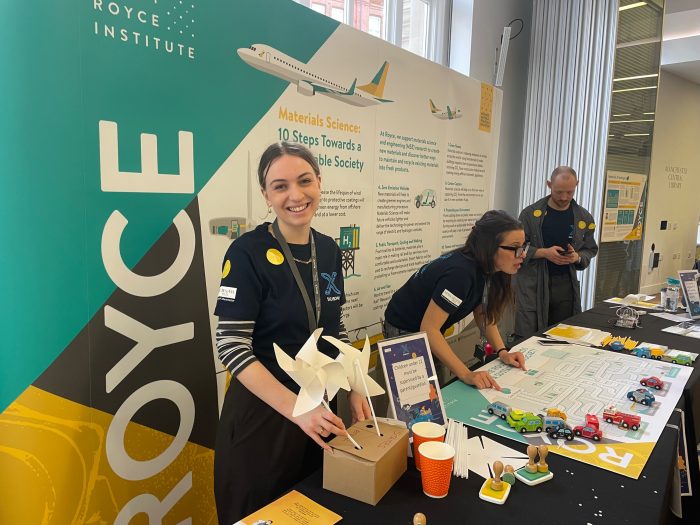 Outreach at Royce
As the UK's national institute for advanced materials, Royce is committed to inspiring the next generation of materials scientists and engineers into the field. Alongside providing access to our national cutting edge research facilities, Royce is actively fostering an engaged learning community in materials science and engineering throughout the UK. To find out more about outreach at Royce visit: https://www.royce.ac.uk/outreach/
Enquiries
For outreach enquiries contact:
Alice La Porta
Alice.laporta@royce.ac.uk
National Public Outreach Officer | Henry Royce Institute