The Henry Royce Institute recently supported Bruker Nano Surfaces with their workshop on Advanced Materials Characterisation, held at The University of Manchester on Wednesday 7th March. The event served as an opportunity to develop the Royce Material Systems for Demanding Environments community, facilitating networking between Royce partners, academia and industry with a focus on the Tribology sub-theme.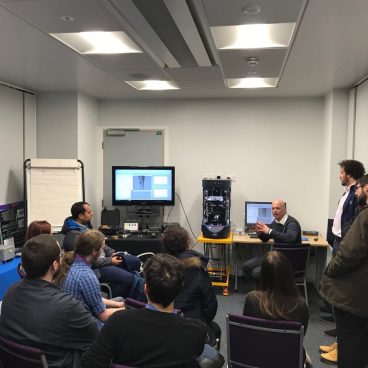 The day was made up of two talk programmes and a series of practical sessions with Bruker equipment. Royce Chief Scientist Regius Professor Philip Withers introduced the Henry Royce Institute to delegates discussing the surface engineering activities taking place across the Royce partners. This was followed by a presentation by Professor Allan Matthews, Director of the BP International Centre for Advanced Materials based at The University of Manchester, which provided more information about the capabilities of the Royce@Manchester facilities and the Henry Royce Institute for Advanced Materials.
Bruker representatives then discussed the industrial challenges and applications of Nanoindentation and Tribology-testing to understand Advanced Materials Performance, before leading into the practical sessions. Equipment presented at the event included the Nanoindentation TI Premier (for nanoscale mechanical testing), the Tribolab system (for scratch testing), the Contour Elite K 3D optical system (for inspection and metrology) and the high temperature hardness tribology systems based in The University of Manchester characterisation laboratory.
The afternoon talks programme featured presentations from Royce partners, covering nanoindentation, tribology and tribochemistry in relation to product development, testing and material engineering.
The event was well received by the materials community with representatives from organisations such as Airbus, Croda, CPI and TWI in attendance. Bruker Sales Manager, Boumedienne Boudjelida, explained that "Royce is an excellent interface for companies looking to invest in new equipment" offering a link with universities and opportunities to build on their experience. Mark Gee, Science Leader for the Engineered Materials Science Group at the National Physical Laboratory, said the day was also "An excellent opportunity to describe some of [our] work to an appreciative audience".
Professor Allan Matthews commented that "This event illustrated perfectly how the Royce Institute can work together with its industry and academic partners to mutual benefit – and to the benefit of the wider UK industrial and University community. There have been many examples today of end user companies and their supply chain providers getting together for positive discussions around future challenges and innovative solutions".
As a central teaching space for The University of Manchester and the current base for the Royce Hub, the Alan Turing Building was a good location for the event opening up the Royce brand to the student community. Professor Matthews added that "It has been very useful for our students to encounter real world challenges and the latest instrumentation to overcome them."
This event was one of many planned for the coming months, focused on developing the UK's materials community and providing a platform for networking and investment.
Reflecting on the day and looking to the future, Professor Withers said, "This event provided an excellent opportunity to bring together industry and academics to determine how we can better understand near-surface behaviour of material systems."
"The connections made during these community workshops will allow us to establish what tools and training are needed going forward to collect the information we need using the latest equipment and techniques. Events like this are exactly what the Royce hub is for and we look forward to hosting and supporting these collaborative events in our new building in 2020."
Other speakers included:
Jaroslav Lukes, Bruker NanoIndentation, Europe
Steve Shaffer, Bruker Tribology & Mechanical Testing, San Jose, USA
Steve Bull, University of Newcastle
Mark Gee, National Physical Laboratory
Abdel Dorgham, University of Leeds