The Henry Royce Institute (Royce) has appointed Ramone Johnson to its Governing Board (GB) as a Board Apprentice.  Ramone is a highly experienced Project Management Consultant with over 14 years' experience, and a strong background in the power and real estate sectors.  Ramone is currently a Project Management and Advisory Consultant with Manchester-based Avison Young.
Commenting on his appointment, Ramone said: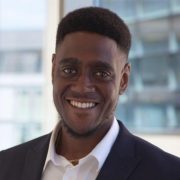 "It is an honour to be appointed to the Governing Board of the Henry Royce Institute. I can promise that I will give my all to help guide the Institute to achieve its goals in multiple areas and provide a varied perspective from my experience in various similar positions in other sectors. I can't wait to get started and everyone I have been in contact with has been very welcoming.

"I would also like to thank Mike Crawford from BURN with setting up this opportunity."
Chair of the Royce Governing Board, Sir Peter Gregson added:
"We are delighted to welcome Ramone to the Henry Royce Institute Governing Board (GB); his proven capability and experience in Royce-related sectors, combined with an excellent track record in management of large projects, will be invaluable to us as we move into the next phase our operations."
CEO and Co-Chair of the Royce EDI Committee, Prof. David Knowles said:
"Royce is committed to enabling an inclusive and supportive environment to work and engage in, and recognises the importance of developing diversity in our Governing Board and across the Royce Community. Linking to initiatives such as BURN and Board Apprentice is one way we are proactively addressing under-representation. We are looking forward to working with Ramone and the diversity of thought, perspective and experience that he will bring to our Board."
BURN initiative
Ramone's appointment has been facilitated by the Black United Representation Network (BURN)   which as has partnered with  Board Apprentice, which seeks to widen the pool of board-ready talent by identifying and placing high-calibre, diverse professionals as 'board apprentices' on boards for one year, allowing them to gain first-hand experience through observation of the workings and dynamics of a board. These senior leader apprentices emerge with the practical experience and understanding necessary to further qualify them to take on further board roles.
During his early career Ramone Johnson was a civil engineer and worked on a wide variety of sectors including nuclear, redevelopment, pharmaceutical, rail, earthworks and residential. He is a chartered member of the Institute of Engineering and Technology (IET). Ramone has experience of being part of and managing both large and small scale consultancy teams ensuring deliverables are produced on time, on budget and to a high quality. Ramone has extensive experience working with both private and public sector organisations to help them realise not only their commercial objectives, but also their wider ambitions.