Discover Materials, the inter-university working group for Materials Science and Engineering (MSE) student outreach, has launched its new website in partnership with the Henry Royce Institute.
The new website has been designed with user experience in mind to provide easy-to-navigate resources, news and events listings for students, parents and teachers who are interested in learning more about MSE.
Underpinned by Discover Materials and Royce's ambition to showcase advanced materials research and innovation to younger audiences in the UK, the exciting web design and updated branding present on the site have been produced specifically to engage and inspire Key Stage 1-5 students into MSE education and career pathways.
The site includes a host of new features to deliver information, activities and educational resources which are tailored specifically to students learning at different key stage levels, positioning Discover Materials as the leading resource for students interested in Materials Science.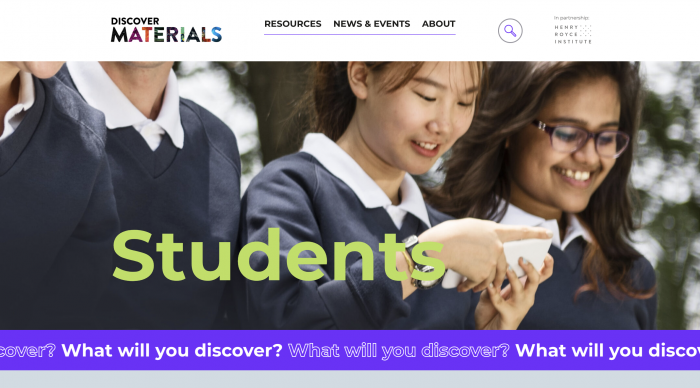 Discover Materials' national network of ambassadors also have a host of resources available to access for outreach activities. With the various disciplines involved in MSE, including chemistry, biology, physics, design and technology, showcased in activity pages.
Visitors to the new Discover Materials site can stay informed with the latest MSE announcements through the news and events blog. The blog will contain milestone updates in materials science and engineering, as well as information on events where students, teachers and families can learn more about what makes Materials Science so great.
The new, feature laden, Discover Materials website supports the objectives in the working group of: Increasing awareness of MSE as a subject and career path, establishing lasting relationships between Universities and Schools to promote the successful transition of school leavers into MSE undergraduate programmes, and widening participation to those students who may face barriers to higher education.
Visit the Discover Materials website now at discovermaterials.co.uk