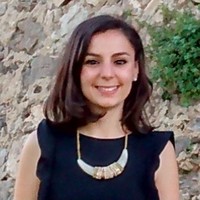 Henry Royce Institute corrosion expert Dr Beatriz Mingo will be named as one of the Royal Academy of Engineering's five Young Engineers of the Year next week. She will receive the award at the Academy Awards Dinner in London on Tuesday 12 July 2022.
Dr Mingo is a Materials Engineer and Presidential Fellow at the University of Manchester and the Henry Royce Institute. Her research focuses on environmentally friendly surface treatments for lightweight components used in transport. Her work has been recognised internationally by the European Federation of Corrosion, the International Society of Electrochemistry and by the Alexander von Humboldt Foundation, amongst others.  In 2016, she was awarded a Young Scientist Grant by the European Federation of Corrosion, whose objective is to promote knowledge exchange within the international corrosion community.
She is currently a Royal Academy of Engineering Research Fellow and as part of her current project, Next generation of ceramic coatings for active protection of light alloys, she is developing high-performance smart materials that can release corrosion inhibitors in response to the change in pH that accompanies the start of the corrosion process. Her research could extend the lifetime of lightweight components used in transport, which will help to create energy-efficient vehicles and support sustainable consumption of resources.
During her research career, Dr Mingo has secured approximately £800k of funding as Principal Investigator, published 32 journal papers and received a number of awards in recognition of her scientific excellence including the 2020 Oronzio and Niccolò De Nora Foundation Young Author Prize by the International Society of Electrochemistry.
Professor Allan Matthews FREng, Professor of Surface Engineering and Tribology at the University of Manchester, who nominated Beatriz for the award, says
"I believe Dr Mingo's research will be a great addition to the current scientific outlook in the field of surface engineering that will lay the foundations of a successful independent research career."
Professor Bashir Al-Hashimi CBE FREng, Chair of the Royal Academy of Engineering Awards Committee, says:
"Our Young Engineers of the Year are pushing the boundaries of modern engineering and creating genuinely new economic opportunities, benefitting society and the environment in the process. They are also fantastic role models for any young person considering joining the engineering profession. I congratulate them all."
The four other RAEng Engineers Trust Young Engineers of the Year are:
Dr Robert Hammond, Lecturer in Infection and Global Health at the University of St Andrews, who studies bacterial and fungal infections in humans and animals and has developed a tool to identify which antibiotics are effective against a particular infection.
George Imafidon, a performance engineer working with the Team X44 electric racing team to design Extreme-E race cars. He is also CEO and Co-Founder of Motivez, an app designed to help young people from underrepresented backgrounds access personalised opportunities, particularly in STEM.
Dr Fragkoulis Kanavaris, Arup's leading concrete materials specialist with a background in structural engineering, who is the current materials lead on the High Speed 2 rail project.
Dr Matthew Marson, Global Market Sector Director at Arcadis, who has spearheaded international advancement of smart buildings and cities, working at the intersection of engineering, technology and sustainability.