Overview
This event aims to provide students with some crucial career skills that may not be encountered as part of the structured learning on a research-based PhD. The talks and activities will be around "soft-skills", such as networking and communicating science to non-specialist audience.
This event will be free to attendees, and lunch will be included.  To encourage new interactions, places will at first be allocated on a locational basis. Places are limited so you are encouraged to apply as soon as possible.
Background
Continuing in academia is often seen as the end result of PhD study, but there are other career paths a researcher may choose upon finishing their degree. While research skills are useful in these roles, "soft skills" are just as important, making their development all the more critical.
This training event will therefore cover topics such as skills for employability, networking and science communication. These topics have been chosen as they can be underrepresented over the course of PhD study, and it is hoped that participants will be able to apply them in a diverse range of situations, regardless of their field.
Audience
This event on Soft Skills for Researchers is open to all UK Materials Science PhD students who are looking to develop their skills beyond the lab. It will benefit researchers at all stages of their PhD, whether they are just starting and want to learn skills to take to conferences and other meetings, or if they are coming to the end of their studies and are thinking about how to make their CV stand out.
Learning outcomes
After the event participants should have:
Gained insight and confidence to use new tools to build networks and support career development
Considered what they want from their career post-PhD and what opportunities they can take advantage of
Learned about the techniques used to effectively communicate their own research and scientific concepts to a variety of audiences
Seen the value of scientific outreach not just for public understanding, but also for practicing their own key skills
Programme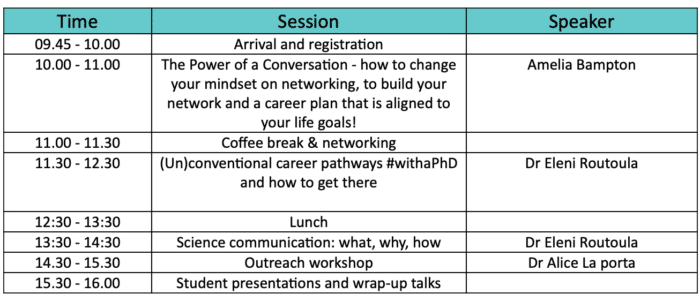 Application
To register to attend this event, please fill out the application form.