Overview
This webinar will provide an overview of the X-ray photoelectron spectroscopy (XPS) facilities available to access across the Henry Royce Institute. The content will introduce researchers to XPS approaches and provide practical guidance on starting to use XPS in their work. The talks will also cover the different techniques and instrumentation available at Royce partners in Manchester, Leeds, Cambridge, Oxford, and Imperial College London.
Background
XPS enables quantified analysis of the elemental and chemical environment and is used across a wide range of advanced materials research. Royce offers XPS facilities including standard measurements under high vacuum, higher energy X-ray sources for enhanced "bulk-like" sensitivity, and at higher pressures approaching ambient (realistic) conditions.
Audience
The webinar will be of use to researchers interested in employing XPS in their research for the first time. It will also benefit established scientists across academia, industry and commercial organisations that seek to learn more about how to use XPS analysis to characterise materials of interest or access specialist equipment at Royce.
Learning outcomes
After the event participants should be able to:
Explain the data XPS can obtain and the benefits and limitations of the analysis
Select the most appropriate Royce XPS facility for their material system
Determine the sample requirements for XPS
Webinar information
The scheduled times are given as approximations, but every effort will be made to start and end at the times indicated. The webinar will be recorded, and edited videos will be available after the event.
Programme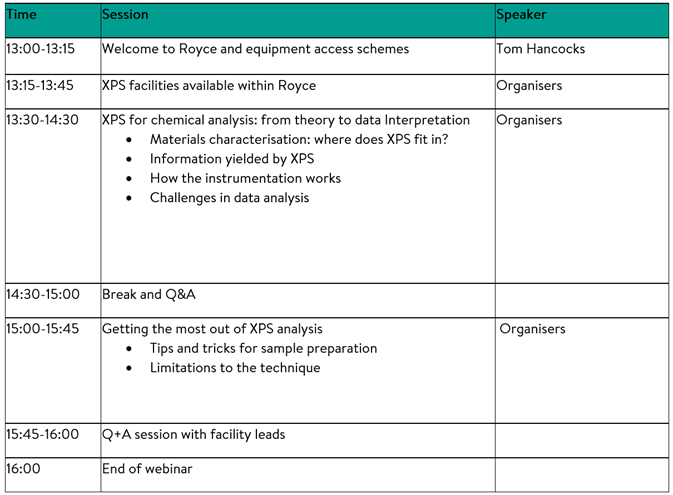 Organisers
Dr Gwilherm Kerheve, Imperial College London
Dr Carmen M. Fernandez-Posada, University of Cambridge
Dr Joshua Gibson, University of Oxford
Dr Andrew Britton, University of Leeds
Dr Elizabeth Wilneff, University of Leeds
Dr Marek Nikiel, University of Manchester
Dr Ben Spencer, University of Manchester