Tekna - TekSphero 15
Plasma Powder Spheroidisation
Spheroidisation uses high energy plasma to create highly spherical and dense metal powders from those produced by sintering, grinding and atomisation techniques, providing more consistent results. Spherical powders have better flowability inside an AM machine, meaning less downtime and faster production.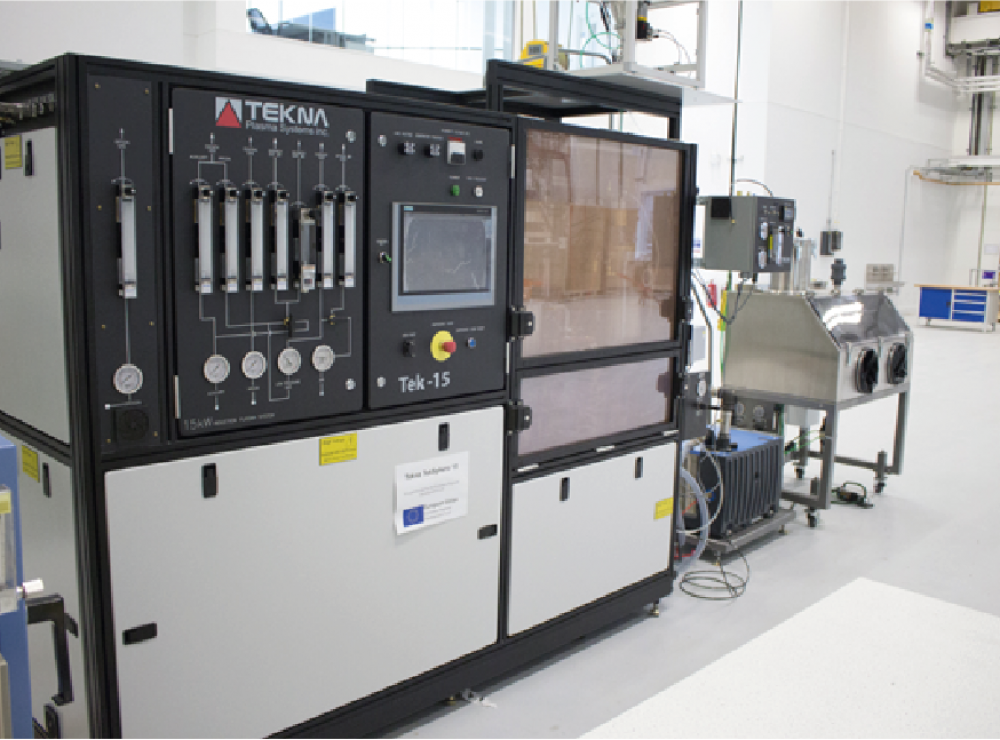 Plasma Spheroidisation
Detailed Description
Spheroidisation reduces internal porosity and provides higher packing density while removing contamination and increasing purity. Removing excess oxygen from the material helps to improve mechanical properties in the completed part or component.
The TEKSHPERO-15 enables us to meet the most demanding powder metallurgy applications including AM, metal injection moulding and hot isostatic pressing. The powder developed at 15kW can easily be scaled up for production at higher power levels. It has a feed rate of up to 1kg/h and can produce powder sizes of up to 200μm. The machine is suitable for processing refractory metals such as tantalum, tungsten, titanium, molybdenum, and niobium, as well as nickel-based superalloys.
Uses/Applications
Powder type: (This machine is not suitable for Al, Be, Zr, Mg, B)
Tantalum, tungsten and titanium alloys
Refractory metals such as molybdenum and niobium as well as nickel based super alloys
The plasma spheroidisation can utilise for recycling and spheroidisation of used powders in order to reduce costs for the user, but also help to ensure the quality of the recycled powder.
Additionally, the plasma spheroidization process removes contamination and reduces oxygen that can accumulate when powder is re-used.
Features
Plate power 15Kw HF output
Manual operation
Nominal operating frequency in the 2 to 5.0 MHz range
Power requirements: 380-415 Volts, three (3) phases, 50/60 Hz operation
Very flexible for batch process
Size: 2.5*0.9*2.0 (L*w*h)
Powder size; up to 200µm
Feed rate: up to 1 kg/h
Capacity of Plasma Treatment
Melting point: No Limit
Spheroidization: Up to 100%
Densification factor: Up to 3 times
Purity Enhancement Factor: Up to 10 times
Raw materials: Crushed, Sponge, Fibres, Atomised Solution
Enquire now
Fill in the form and a member of the Royce team will be in touch.
Thanks for your message, it has been sent.