Plasma Focused Ion Beam
The TESCAN XEIA3 is a high specification plasma-FIB and FEG-SEM endowed with a variety of detectors providing the UK with a powerful characterisation tool for active materials.
Due for installation within NNL Central Laboratory early 2020.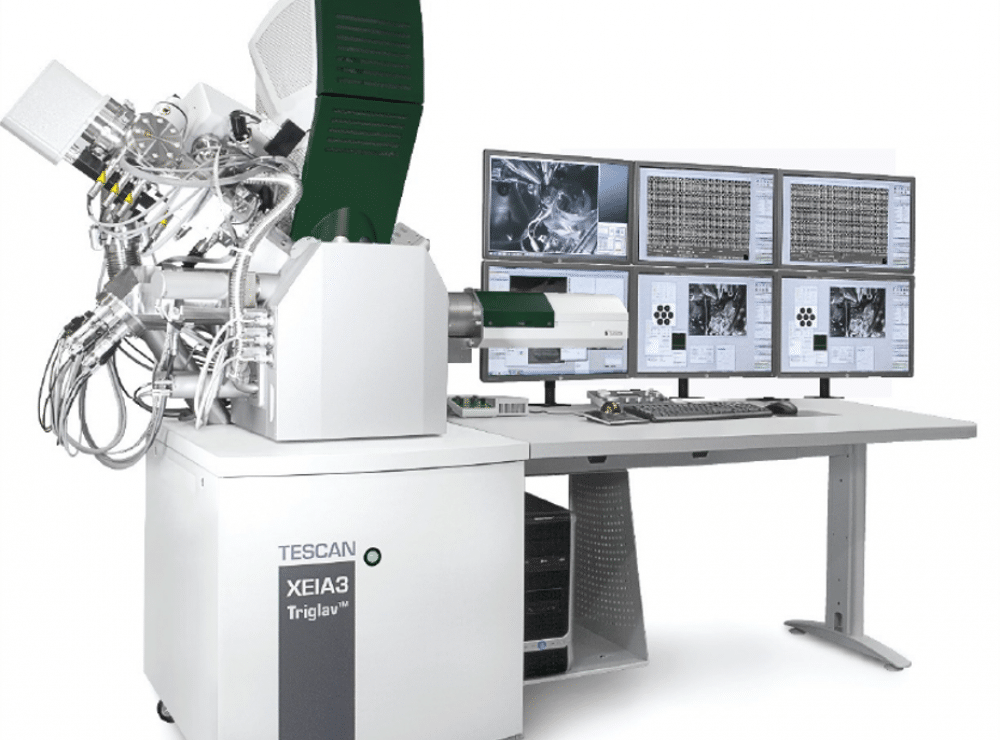 NNL_PFIB
Detailed Description
The NNL PFIB will be a national asset for the characterisation and preparation of active material samples in the UK. It will be the most versatile microscope in NNLs fleet of active electron microscopes. Compared to a Ga+ ion FIB, the PFIB is considerably faster (up to x 50) allowing for higher volume samples to be milled and analysed than previously possible.
The PFIB is fitted with a TOF SIMS system, capable of operating in negative/position modes – allowing for the detection of a wide variety of isotopes – including those of hydrogen. This is a first for any active FIB in the UK.
Detailed X-ray mapping and analysis is possible due the FEG electron source and two large detectors; a Bruker 60 mm2 (1 Sr) FlatQuad optimised for maximum X-ray collection and Bruker 100 mm2 main detector which allows greater flexibility with other imaging modes. Additionally, electron backscatter diffraction capability allows grain orientation mapping using a Bruker EBSD (with TKD) detector.
By combining the above techniques with the milling aspect of the P-FIB allows for unprecedented site-specific analysis and sample preparation. The acquisition of 3D datasets is greatly enhanced by the rapid milling capability. Examples of use could include: preparation of TEM lamella for radiation induced segregation analysis at grain boundaries, mapping of grains using EBSD, preparation of APT needles characterisation of zirconium oxides using SEM and many more.
Uses/Applications
Detailed microstructural investigations into active materials, including EDX and EBSD mapping.
Destructive 3D tomography
TOF-SIMS isotopic analysis
Preparation of TEM samples for export to Universities and/or NNL's TEMs
Preparation of APT needles for export to Universities
Imaging
0.7 nm resolution @ 15 keV (electron imaging)
Beam deceleration
In beam, SE, BSE, low-energy BSE detectors
Retractable BSE and STEM detectors
Ion imaging (1 pA to 1 µA Xe ion current) < 15 nm resolution
Focused Ion Beam
Xe-plasma ion source
Rocking stage
OmniProbe OP400
5-line GIS system: Pt, C, XeF2, O2-bleed, H2O etch enhance
Spectroscopy and Isotopic Analysis
Bruker 100 mm2 EDX detector
Bruker FlatQUAD 60mm2 EDX detector
Bruker EBSD with TKD
TOF SIMS < 1.5 ppm detection limit, < 60 nm lateral resolution, 3 nm depth
Enquire now
Fill in the form and a member of the Royce team will be in touch.
Thanks for your message, it has been sent.