KLA iMicro Nanoindenter
Nanoindenter
The iMicro nanoindenter records load and displacement changes in µN and sub-nanometre scales during indentation of a µm sized tip into a sample surface.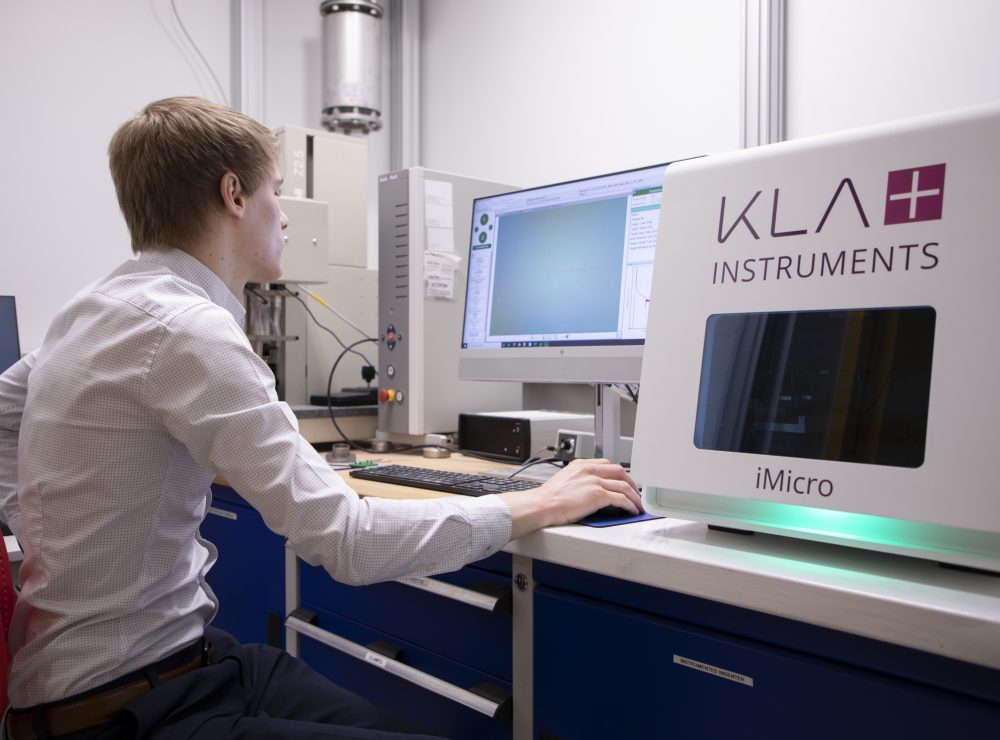 Detailed Description
The iMicro nanoindenter features the InForce 1000 actuator for performing nanoindentation and universal nanomechanical tests. The InView software is a flexible, modern software package that makes nanoscale testing easy. The iMicro is a compact platform with the high-speed InQuest controller and vibration isolation gantry built in to the enclosure. An extensive range of materials and devices can be tested, including metals, ceramics, composites, thin films, coatings and polymers.
Uses/Applications
Hardness and modulus measurements (Oliver-Pharr). High speed material property maps. ISO 14577 hardness testing.
InForce 1000 actuator for capacitance displacement measurement and electromagnetic force actuation with interchangeable tips.
InQuest high-speed controller electronics with 100kHz data acquisition rate and 20µs time constant.
XY motion system with easy mounting magnetic sample holder.
High stiffness gantry with integrated vibration isolation.
Integrated microscope with digital zoom for precise indentation targeting.
InView software package with RunTest, ReviewData, InFocus reporting, InView University online training and InView mobile application.
Enquire now
Fill in the form and a member of the Royce team will be in touch.
Thanks for your message, it has been sent.