Electrochemical testing suite
Electrochemical testing suite
A variety of potentiostats and cyclers with varying capabilities for electrochemical cycling and testing of full and half cells. available within controlled environments (ovens for fixed temperature, gloveboxes for controlled atmosphere).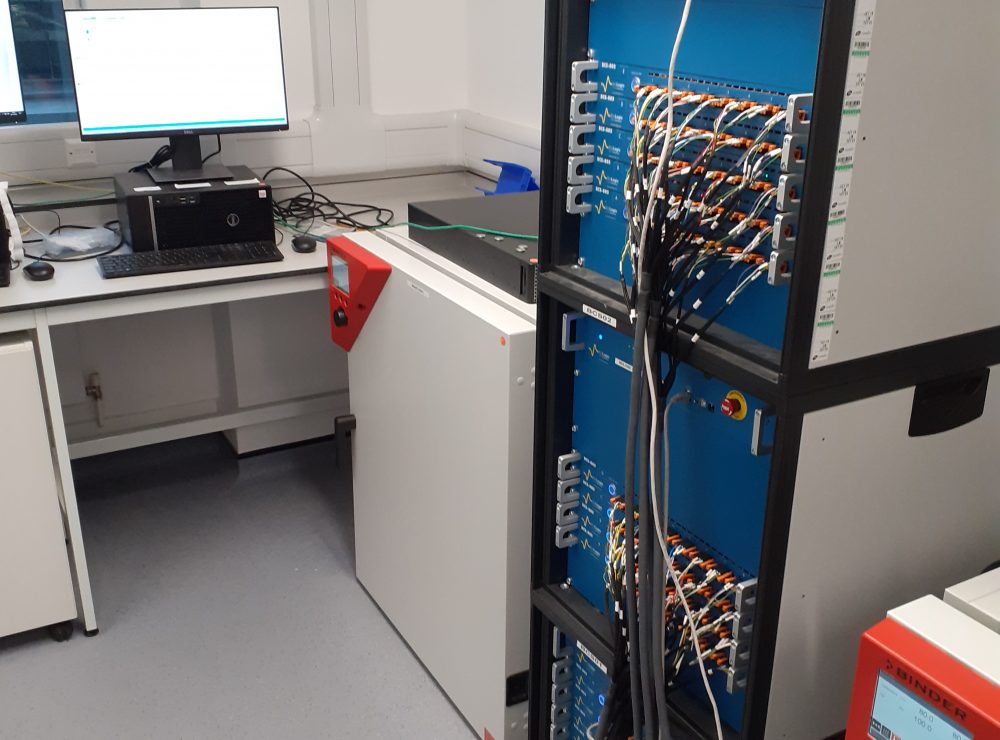 Partner:

University of Oxford

Availability:

Available
Enquire Now
Detailed Description
– BioLogic MPG-2
– Biologic SP-150
– BioLogic BCS-805 channels both with and without EIS
– Biologic VMP3 channels with and without EIS
– Gamry 1010E potentiostats
Uses/Applications
Electrochemical testing for battery, fuel cell or electrocatalysis performance assessment.
Long term cycling available for material degradation studies.
Potentiostats available with EIS capabilities to monitor interfacial resistance growth due to cycling and ageing.
Analytical electrochemistry through use of cyclic voltammetry and chronoamperometry.
We have numerous single and multi-channel potentiostats and temperature chambers for cell cycling.
– SP-150 (single channel, current ranging: 10 μA to 800 mA), SP-300 (single/bipot, 500 mA to 10 A), VMP3 (up to 16 independent channels, current ranging from 10 μA up to 400 mA). EIS options on all.
– BCS-805 battery cycling systems have 8 independent channels each with optional EIS in the frequency range of 10 kHz – 10 mHz. The maximum current per channel is ±150 mA and the voltage range is 0 – 10 V with 40 µV (18 bit) resolution. Five current ranges between 100 mA – 10 µA yield excellent resolution down to 0.2 nA (18 bit).
– The configuration of MPG-2 is fixed at 16 channels, each an independent potentiostat/galvanostat. The current ranges from 10 μA to 100 mA and has a resolution of 760 pA. Voltage resolution is 5 μV. EIS measurement from 10 µHz to 20 kHz.
– The Bio-Logic MTZ-35 impedance analyser has a wide frequency range (10 µHz – 35 MHz) and great accuracy (0.1% amplitude, 0.05% phase), voltage range of +/-100 μV to +/-10 V DC + peak AC.
– MACCOR systems run a wide range of multi-step/pulse tests, operable with fixed current, power, voltage, or resistance.
– Solartron Analytical ModuLab XM MTS is able to auto-sequence techniques for charge carrier activation and analysis, without changing sample connections. Capable of voltage scans with current measurement, and conducting hysteresis tests using polarization/electric fields.
– The Gamry Reference 600+ is a high-performance potentiostat/galvanostat/ZRA fully equipped to perform
electrochemical impedance spectroscopy (maximum Applied Potential – ±11 V, EIS – 10 μHz – 5 MHz). We have a number of Gamry interfaces (1000 and 5000) that are capable of conducting numerous pulse and physical voltammetry experiments as well as electrochemical energy tests.
Enquire now
Fill in the form and a member of the Royce team will be in touch.
Thanks for your message, it has been sent.