Bruker Dimension Icon Scanning Probe Microscope (SPM) / Atomic Force Microscope (AFM)
Electrochemical AFM / SPM under inert argon atmosphere
Bruker Dimension Icon Scanning Probe Microscope (SPM) / Atomic Force Microscope (AFM) in a MBraun Glovebox.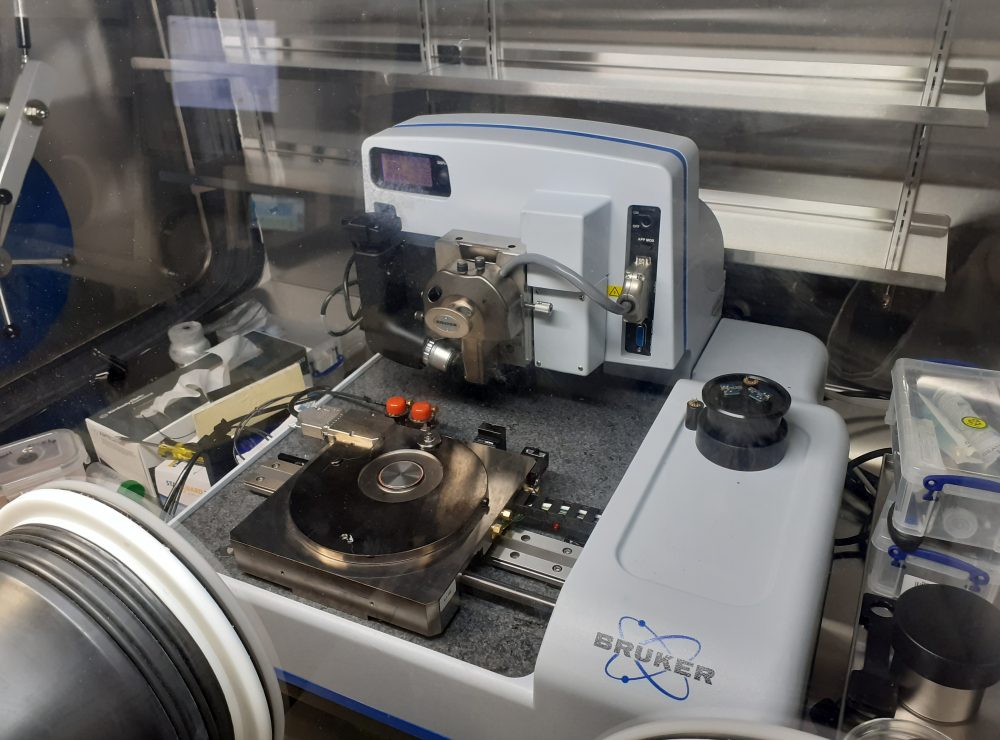 Partner:

University of Oxford

Availability:

Available
Enquire Now
Detailed Description
Scanning probe microscopies (SPM) such as AFM have the ability to measure and image surfaces with atomic-scale resolution. Further to this by modifying the functional groups on the scanning probe itself valuable chemical information can be obtained from the surface. This SPM system is also equipped with the ability to perform liquid state studies and apply a tip-surface bias to enable electrochemically resolved measurements to be performed on electrode/electrolyte systems. Consequently surface morphological changes can be monitored as a function of applied potential, allowing tracking of interfacial layering.
Uses/Applications
Surface imaging to obtain topographical information.
Identify presence of functionalised surface domains
observe surface kinetics (such as crystallisation) during imaging
Biomolecular imaging.
Functionalisation of carbon nanomaterials.
Localised electrochemical measurements and observation.
The superior resolution of the Dimension Icon, in conjunction with Bruker's proprietary electronic scanning algorithms, provide the user with a significant improvement in measurement speed and quality. The Icon is a culmination of Bruker's industry-leading, tip-scanning AFM technology, incorporating temperature-compensating position sensors to render noise levels in the sub-angstrom range for the Z-axis, and angstroms in XY. This is extraordinary performance in a large-sample, 90-micron scan range system, surpassing the open-loop noise levels of high-resolution AFMs. The new design of the XYZ closed-loop head also delivers higher scan speed, without loss of image quality, to enable greater throughput for data collection. Bruker-exclusive PeakForce Tapping® enables Dimension Icon to routinely create the highest resolution images.
The Icon system delivers uncompromised performance, robustness, and flexibility to perform nearly every measurement at scales previously obtained by extensively customized systems. Utilising an open-access platform, large- or multiple-sample holders, and numerous ease-of-use features, it opens up the power of AFM to research and industry alike, setting a new standard for high-quality AFM imaging and nanomanipulation.
With an unrivalled suite of imaging modes available, Bruker has an AFM technique for every investigation. Built on the backbone of core imaging modes—Contact Mode and Tapping Mode—Bruker offers AFM modes that allow users to probe their samples' electrical, magnetic, or materials properties. Bruker's innovative new PeakForce Tapping technology represents a new core imaging paradigm that has been incorporated into several modes, providing topographic, electrical, and mechanical properties data in parallel.
Enquire now
Fill in the form and a member of the Royce team will be in touch.
Thanks for your message, it has been sent.