JEOL ARM200CF with Gatan Quantum 965ER *Active materials*
Atomic Resolution Electron Microscope
Atomic resolution analytical electron microscope for use with active materials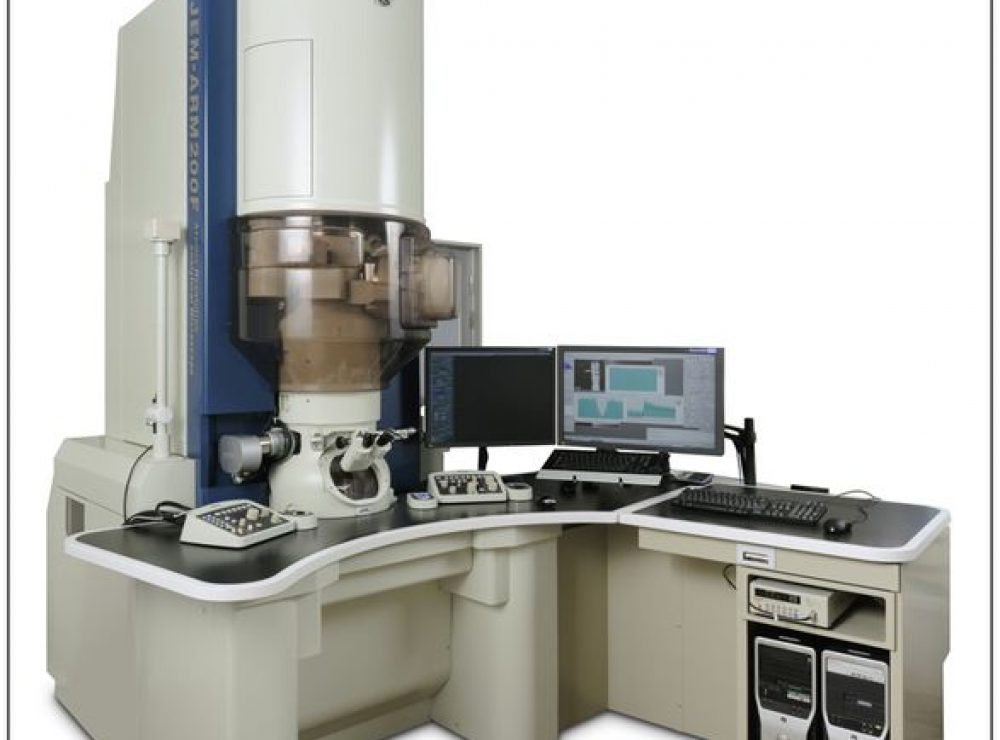 JEOL ARM200CF with Gatan Quantum 965ER
Detailed Description
The JEOL ARM200CF is an Atomic Resolution Analytical Electron Microscope, with a STEM Cs corrector providing a STEM-HAADF resolution of 78 pm and full analytical capabilities using EDX and EELS. The Cs corrected electron probe has an increased current density, one order larger than conventional FE TEMs enabling elemental analysis at the atomic-level.
The JEOL ARM200CF provides simultaneous STEM-ABF imaging for visualising light elements together with STEM-HAADF imaging.
Elemental EDX analysis and elemental mapping at atomic resolution is provided using twin JEOL Centurio wide area (100 mm2) Silicon Drift Detector (SDD) for high-speed and high-sensitivity detection.
The narrow energy spread that is characteristic of the cold FEG enables high energy resolution EELS analysis and fast EELS mapping with dual EELS capability.
Uses/Applications
High Resolution Imaging and Spectroscopy
Atomic-Resolution Elemental Mapping by EELS and XEDS
Studies of catalysts and other nanoparticulate systems
Resolution
STEM/ADF Mode 78 pm (at 200kV, with cold FEG)
TEM (point resolution) 190 pm (at 200kV)
Magnification
STEM x 200 to x 150,000,000
TEM x 50 to x 2,000,000
Electron Source
Emitter W cold field
Accelerating voltage 200 to 80kV
Specimen System
Stage Eucentric Side Entry Goniometer stage
Piezo X, Y, Z control
Specimen size 3 mm
Maximum tilt angle X axis: ±25°
Y axis: ±25°
Travel Range (mm) X,Y: ±1, Z:±0.1
Aberration Corrector
Probe forming system/Cs-corrector Yes
Image forming system/Cs-corrector No
Additions
Gatan Model 965 GIF Quantum ER
Enquire now
Fill in the form and a member of the Royce team will be in touch.
Thanks for your message, it has been sent.