Bruker NanoIR3-s with Broadband Laser
Atomic Force Microscope with Infrared Spectroscopy
The NanoIR3-s system enables the detection of infra-red interactions with a sample at nanoscale resolutions together with topological, thermal and electrical analysis.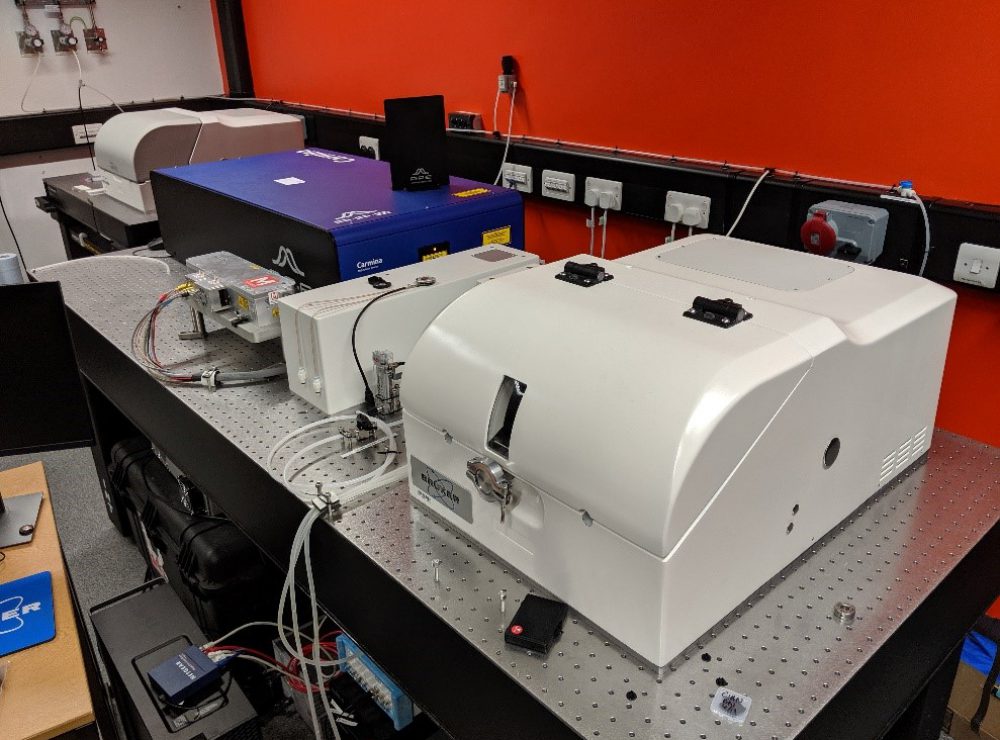 NanoIR3-s
Detailed Description
The main operation modes of the Bruker NanoIR3s system enable the detection of light/matter interaction at nanoscale resolutions, giving both physical and chemical information by detecting dipolar oscillations. By coupling an atomic force microscope (AFM) with the spectroscopic and optical information gained using infra-red radiation, this is achieved through either detection of thermal expansion in the sample (PTIR) or by analysing the scattered light coming away from it (s-SNOM).
Alongside these complimentary techniques, the NanoIR3-s AFM microscope can also measure electrical, thermal and mechanical properties using specialised AFM modes (C-AFM, KPFM, NanoTA, SThM). Temperature control of the sample chamber from -20-80°C and humidity from 4-95% along with glovebox compatibility allows for the measurement of many different samples for a variety of applications all on the same instrument.
Uses/Applications
The instrument allows for local structural, electrical and thermal measurements. This can allow the mapping of material heterogeneity, interaction with its environment, along with other properties.
Sample and general instrument specifications:
Max. sample width = 25 mm2
Max. sample height = 10 mm
10x optical microscope for sample alignment (3x digital zoom)
Sample environment control: -20 to 80°C; 4 to 95% rel. humidity; glovebox accessory available (N2 purge).
Optimal sample thickness for AFM-IR – 20-100 nm; s-SNOM – sample dependant.
Spatial resolutions for IR imaging modes- X,Y = s-SNOM, AFM-IR ~10 nm resolution; Z = s-SNOM, AFM-IR 1-2 nm resolution (sample dependant).
Additional AFM modes: NanoTA, SThM, C-AFM, KPFM, Lorrenz contact resonance, force curves.
Laser specifications
s-SNOM = 5-15 µm (670-2000 cm-1) imaging and spectroscopy, 5-2.5 µm (2000-4000 cm-1) spectroscopy (APE Carmina OPO/DFG laser).
AFM-IR = 5-14.3 µm (700-2000 cm-1) (APE Carmina OPO/DFG laser) & 3.7-2.7 µm (2700-3700 cm-1 ) (M-Squared Firefly OPO laser).
Incident IR polarisation control (0 & 90°) available.
Enquire now
Fill in the form and a member of the Royce team will be in touch.
Thanks for your message, it has been sent.