FEI Tecnai TF20
Transmission Electron Microscope (TEM)
Analysis of elemental compositions down to the sub-nm range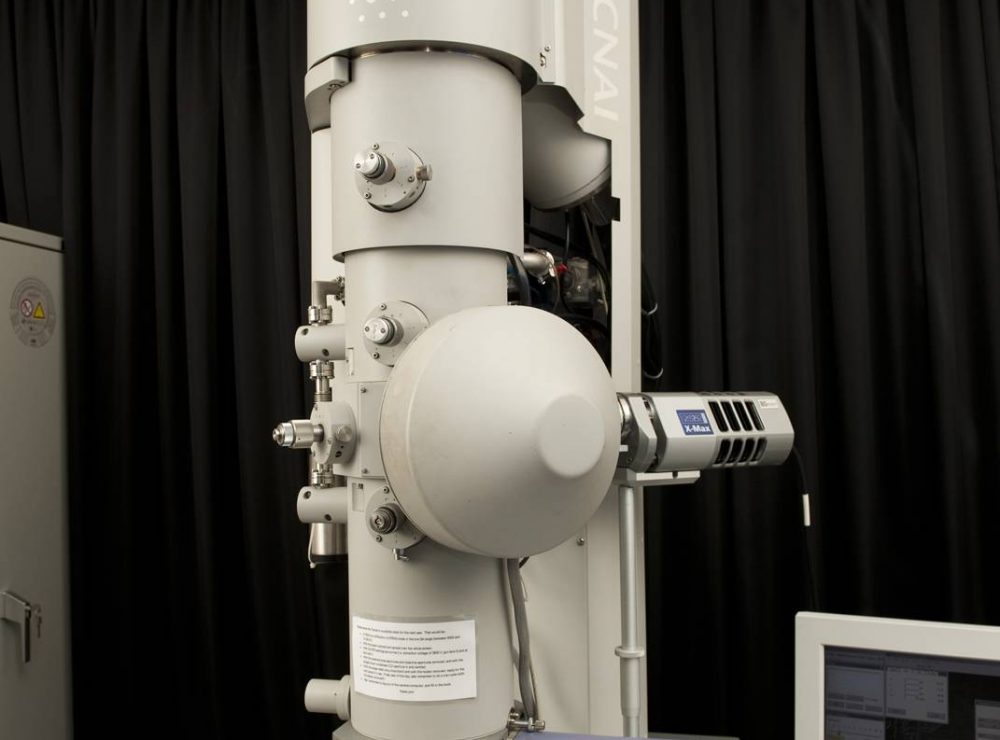 FEI Tecnai TEM Machine
Detailed Description
Field emission gun TEM/STEM fitted with HAADF detector, Oxford Instruments INCA 350 EDX system/80mm X-Max SDD detector and Gatan Orius SC600A CCD camera.
Special TEM sample facilities:
(i) 2 double tilt analytical holders
(ii) Tilt/rotate analytical cooling holder
(iii) Bench-mounted ex-situ reaction/heating cell with vacuum transfer facility
(iv) Fischione plasma cleaner, (v) Gatan model 628 single tilt heating holder – up to 1200C
(vi) Nanofactory combined Scanning Tunnelling Microscope (STM) and TEM holder
TEM Sample Preparation:
(i) Gatan PIPS low angle ion beam thinner
(ii) Gatan Duomill with sample cooling facility
(iii) 2 Dimplers
(iv) Range of Coating units
Uses/Applications
Used for academic and commercial research – wherever high resolution is needed – as well as for product improvement and development.
The high energy resolution enables the investigation and visualisation of different chemical bonds or features in the low loss region such as energy gaps and plasmons.
The investigated specimens and materials are diverse: steels, ceramics, alloys, biological samples, inorganic and organic semiconductors, devices, polymers, nano particles and many more.
Maximum Accelerating Voltage: 200 kV
Electron source: Schottky Field Emitter, Monochromator
Energy resolution EELS: 0.1 eV
TEM magnification: 25 x – 2000000 x
TEM point resolution: 0.24 nm
TEM line resolution: 0.10 nm
STEM: Digiscan II with BF, ADF, HAADF
STEM magnification: 100 x – 5M x
Characteristics: 100 x – 10000 kx
Enquire now
Fill in the form and a member of the Royce team will be in touch.
Thanks for your message, it has been sent.