JEOL JXA-8230
Electron Probe MicroAnalyser
High-resolution, highly stable SEM and a WD/ED Combined Electron Probe Microanalyser (EPMA)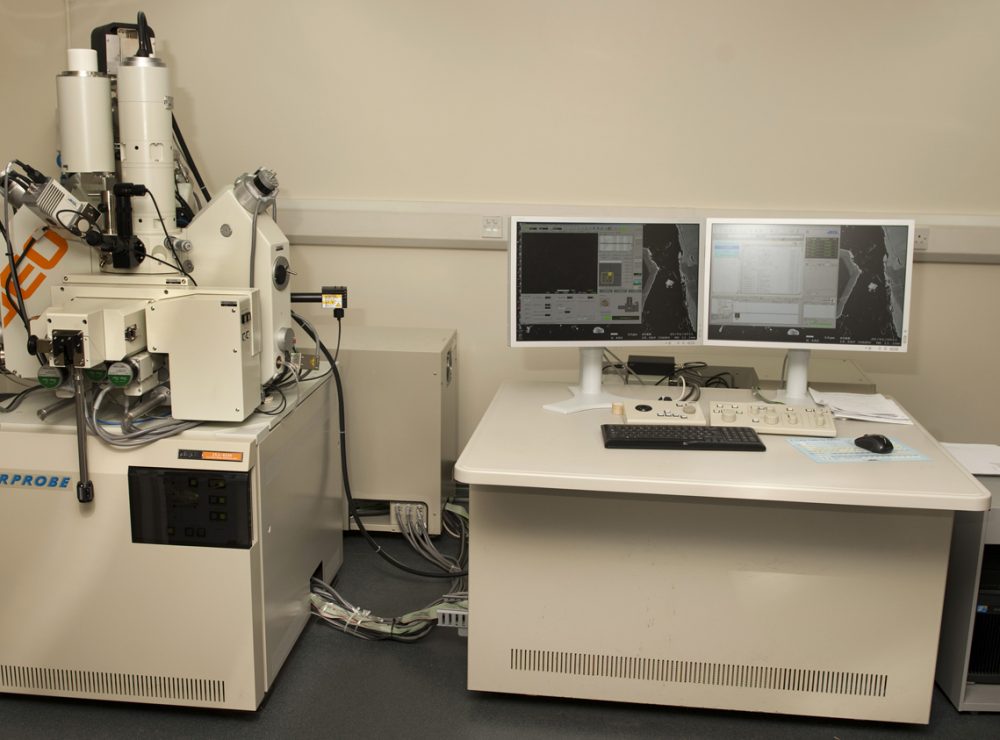 JEOL JXA-8230 Electron Probe MicroAnalyser
Detailed Description
The JXA-8230, the fifth generation of SuperProbes, is a high resolution, highly stable SEM and a WD/ED Combined Electron Probe Microanalyzer (EPMA) with a PC-based operating environment for easy data acquisition and analysis.
The combination of up to 5 wavelength dispersive X-ray spectrometers (WDS) and a newly developed energy dispersive X-ray spectrometer (EDS) analyser featuring spectral imaging assures the most efficient and accurate analysis of data. The WD/ED combined system can simultaneously analyse up to 5 WDS elements and all EDS elements. The backscattered electron image, provided by a highly sensitive solid state detector, the secondary electron image, and optional cathodoluminescence image can all be displayed and viewed at the same time.
The JXA-8230 WD/ED combined microanalyser provides:
large crystal spectrometers for higher detection sensitivity for trace elements and increased count rate without sacrificing energy resolution and P/B ratio
PC automation for easy operation
EDS spectral imaging
Optional fan free SDD x-ray detectors for high throughput
high accuracy of quantitative analysis
high resolving power (resolution) for adjacent X-rays
high accuracy of quantitative analysis for light elements
The automated stage can handle samples up to 6" diameter x 2″ tall through the airlock, and can reposition a sample to less than 0.5um.
Enquire now
Fill in the form and a member of the Royce team will be in touch.
Thanks for your message, it has been sent.