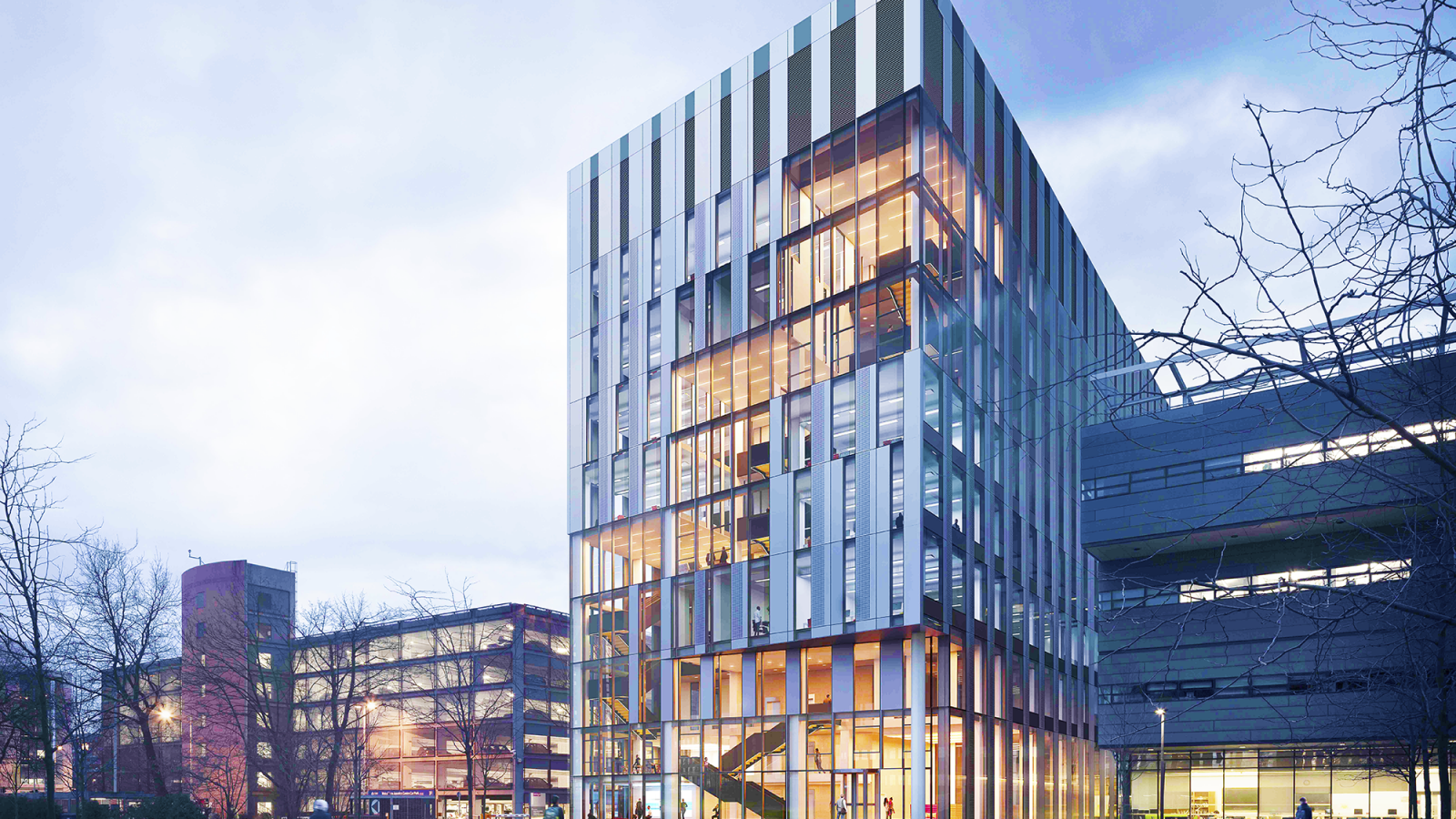 Careers and Research Opportunities
Current vacancies at the Royce
As a partnership of nine leading institutions, the Henry Royce Institute is driven by its people – both researchers and operational teams – that support our materials science agenda and enable successful collaboration with industry.
At the heart of the Royce is a culture that respects diversity, engenders trust, and supports the success of individuals and institutions. Each Partner institution facilitates a collaborative network, incorporating industry, academia and other stakeholders in the materials community.
You can find current vacancies from around Royce Partners on this page.
We recognise the power of connecting people and ideas, and aspire to be an international flagship for materials scientists globally.

Prof. David Knowles
CEO, Henry Royce Institute
Project Manager – Advanced Materials Research
Royce@Manchester
Location: The University of Manchester
Closing Date: 18th February 2019
Contract Type: Full time (12 month fixed term, in the first instance)
Salary: £32,236 to £39,609 PA
The largest School of our kind in Europe, the School of Materials at The University of Manchester has the highest research power level of any university materials activity in the UK, with 80% of our research rated as being internationally excellent or world-leading in quality. Much of the School's research is multidisciplinary and industry-driven, finding direct application in meeting the needs of the School's industrial partners.
Professor Philip Withers is a highly research active Regius Professor of Materials with a multi-million pound research portfolio, tens of research grants and a large number of national and international collaborations active at any one time. He is also the Chief Scientist for the £235m Henry Royce Institute for Advanced Materials and Director of the Henry Moseley X-ray Imaging Facility.
The Project Manager will work within a large scientific community to provide professional project management support for Professor Withers and his research group across all areas of his academic work including research, teaching, outreach, and industrial collaboration. Activities are expected to span a wide range of areas including: line management; monitoring grant progress to ensure key deliverables are met; financial reporting and ensuring efficient use of resources; meeting funding council reporting requirements; liaising with industrial collaborators; and delivering outreach activities. You will play a key role in establishing a strong collaborative culture across the research and professional services teams and in engaging with stakeholders both internal and external to the University.
University Academic Fellows – The Bragg Centre for Materials Research
Royce@Leeds
(3 posts)
Location: University of Leeds
Closing Date: 10th March 2019
Contract Type: Full time
Salary: £40,792 to £48,677 PA
Are you an experienced and ambitious researcher looking for your next challenge? Do you have a strong research background in advanced materials? Do you want to further your career in a world-leading, research-intensive Russell Group University?
With a vision and drive to contribute to a world-leading research portfolio, as well as a passion for undertaking research-led teaching, you will make a significant impact on the performance, stature and profile of research and student education at the University of Leeds.
We are seeking up to three University Academic Fellows (UAFs) to be associated with the Universty's Bragg Centre for Materials Research ('the Bragg Centre'). The Bragg Centre is part of the £96M University investment in the new Sir Henry Bragg Building, which will also provide new accommodation for the Schools of Computing and of Physics & Astronomy, and will integrate our Engineering and Physical Sciences Schools.
Senior Technician in Advanced Materials Characterisation
Royce@Sheffield
Location: University of Sheffield
Closing Date: 19th February 2019
Contract Type: Full time
Salary: £31,302 to £35,211 PA
If you are interested in being part of a new world-leading facility for the discovery of new materials within a world top 100 University, then this is a great opportunity for you.
The Sheffield Royce Institute is a~£34M project based in the Department of Materials Science and Engineering. Sheffield is part of the national Henry Royce Institute (with the main Hub in Manchester) which aims to grow the UK world-leading research and innovation base in advanced materials science, fundamental to all industrial sectors and the national economy. The Royce@Sheffield focuses on Advanced Materials Processing and will be delivered through two centres – the Royce Discovery Centre (RDC) and the Royce Translational Centre (RTC). These state-of-the-art facilities will allow materials discovery, materials manufacturing and prototype production and will act as an open access centre of excellence for the UK.
The Senior Technician will have technical knowledge of materials characterisation with extensive practical experience in a range of methods commonly use to characterise metallic, inorganic and/or organic materials. These include, for example; thermal analysis; particle size distribution and surface area analysis of powders; rheology; spectroscopic techniques (such as, ir and uv); X-ray diffraction. You will manage the Materials Characterisation Laboratory, making sure that all the equipment is well maintained, calibrated with all Health & Safety documentations in place. You will also provide advice and guidance on a broad range of technical issues to support characterisation work, and you will manage all the external contracts. You will provide training and demonstrations on the operation of technical equipment and safe working practices, ensuring appropriate records are maintained. You will have a degree or Higher National Diploma in a scientific or engineering field (or have equivalent related work experience) and a proven track record of Health and Safety and safe working practices.
Lecturer/Senior Lecturer in Metallurgy
Royce@Sheffield
Location: University of Sheffield
Closing Date: 24th February 2019
Contract Type: Full time
Salary: £40,792 to £58,089 PA, with potential to progress to £65,997 PA through sustained exceptional contribution.
The Department of Materials Science and Engineering has an exciting opportunity for a new academic member of staff with a focus on Metallurgy.
You will join us in an open-ended appointment, and your role will involve both teaching and research responsibilities. Your teaching will be focussed mainly on the core Materials Science and Engineering course, and may involve lecturing, tutoring and the supervision of projects. Research work will involve you both collaborating with other academic staff (in the Department and elsewhere), and industry as appropriate and developing your own initiatives, for which you will have the support of a mentor from our senior staff.
With a PhD (or equivalent experience) and a strong publication track record, and developing your own research specialisation, you will be seeking a chance to create your own independent research career in a top Materials Science and Engineering Department. This can be within any area of the discipline (theoretical or experimental), but we are particularly keen on soliciting applications in the field of advanced materials characterisation, including users of tomographic and synchrotron techniques, and materials modelling. We encourage you to consider how your research would integrate with and complement our current activities, in particular our role directing the Advanced Metals Processing theme in the Henry Royce Institute (www.royce.ac.uk), and major projects such as MAPP (mapp.ac.uk) and DARE (darealloys.org).
Chair and Head of Department
Royce@Sheffield
Location: University of Sheffield
Closing Date: 10th March 2019
Contract Type: Full time
We offer an exciting opportunity to lead a world-renowned department of Materials Science and Engineering, building on our existing excellent record to achieve even greater success.
Our Department is one of the national leaders in the field. Comprising 160 staff across over 24 different nationalities, we have an enviable long-standing, international reputation for research (rated top 5 in REF 2014) and high-quality teaching. Our research attracts outstandingly high grant income, as well as valued collaborations with industry including Rolls-Royce, GKN, Johnson Matthey, and NDA. Our innovative teaching bridges the gap between academia and industry, and our undergraduates become leaders in the field of Materials. The next period will see opportunity to shape Department's activities following the opening of our Henry Royce Institute-funded Research Development Centre.
An experienced and highly effective academic and manager, you will hold the role of Head of Department for your first four years. You will provide strong, strategic leadership to ensure we maintain and develop our reputation for excellence within the increasingly challenging environment of Higher Education.
Lecturer in Materials
Royce@Imperial
Location: Imperial College London (South Kensington and White City)
Closing Date: 1st March 2019
Contract Type: Full time
Salary: £50,681 to £65,620 PA
The Department of Materials wishes to appoint a new colleague to join its academic staff. While the expectation is that this will be at the level of Lecturer, we may consider suitably qualified and experienced candidates for more senior grades. The appointed academic will be supported in their development of an internationally leading experimental research programme relating to the broad theme of "Atoms to Devices", a research area of the Henry Royce Institute for Materials.
You will join a dynamic, world-leading Materials department that enjoys an ethos of collaboration that is especially strong between our Functional, Nanotechnology research themes. They will be expected to attract and supervise high-quality PhD students, supervise postdoctoral research staff, publish high-quality papers in appropriate peer-reviewed journals, disseminate research findings at relevant conferences, seek and obtain external research funding, and contribute to the Department's outstanding undergraduate and Master's teaching programmes. They will be expected to interact with scientists and engineers from other departments across Imperial, and have a strong track record and interest in developing external collaborations both nationally (particularly in connection with the Henry Royce Institute) and internationally.
Experimental Officer – Biomaterials
Royce@Manchester
Location: The University of Manchester
Closing Date: 11th March 2019
Contract Type: Full time (fixed term, until 31 July 2020 in the first instance)
Salary: £32,236 to £39,609 PA
Strategic investment in the Biomedical Materials research area has enabled us to develop comprehensive suites of equipment to 'make, characterise and test' biomedical materials which will help accelerate the development of advanced materials in the healthcare sector.
The Experimental Officer will be primarily responsible for experimental techniques associated with the manufacture of biomaterial surfaces and substrates, culture and analysis of cell/tissue behaviour on surfaces, and the mechanical evaluation of performance of these materials in biologically relevant environments. The post holder will grow and oversee an internal and external user community of researchers, students and industry collaborators and customers. They will provide training, advice and support to facility users on the use of a wide range of scientific equipment and the interpretation of acquired data.
You will be an experienced experimentalist, with an ability to acquire high quality data using advanced and highly specialised biomaterials techniques. A proactive and energetic approach is important, as is an ability to establish a good rapport with research students, staff, external customers and visitors. A degree, or equivalent qualification, in a relevant science or engineering discipline is required, as well as experience of working in a research facility environment and knowledge of biomaterials, including their fabrication, characterisation and testing. A postgraduate degree in biomedical materials or a related field is desirable.