The Henry Royce Institute will be supporting the biggest materials showcase in the UK and help highlight future developments, disruptions and trends in this vital sector for economic growth.
The Royce will provide expert speakers, as well as exhibiting, at the 2018 Materials Research Exchange and Investor Showcase (MRE-2018), which will take place on March 12 and 13 at the Business Design Centre in London. See programme here.
Regius Professor Phil Withers, the Royce's Chief Scientist, said the Institute is delighted to be playing an important role in supporting this national materials showcase.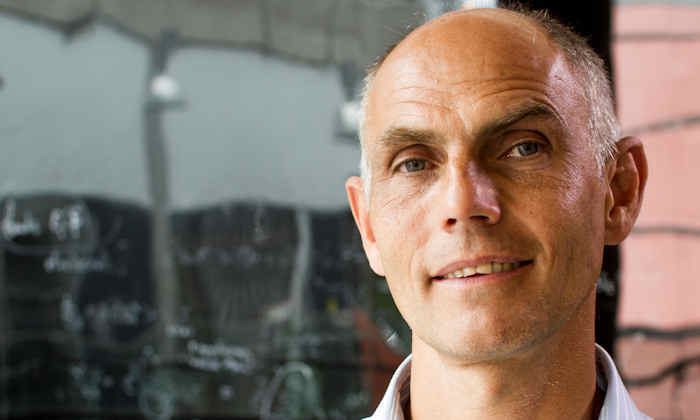 Inspiring innovation: Regius Prof Phil Withers
Professor Withers will chair a panel event on day one of the conference entitled 'Disruption, innovation and the Royce' which will encourage delegates to dare to think differently in a bid to drive innovation across the materials sector.
"Growth in the materials industry in the mid-20th century was driven by substituting traditional materials with new ones, such as plastics – but the focus has now shifted from substitution to the creation of bespoke materials with tailored functionality," said Professor Withers.
"This ability to deliver unique materials has disruptive potential that could drive the type of innovation we perhaps thought was impossible just a few years ago. This is therefore our chance to ask 'what if …?'"
A panel of selected champions from across the Royce partnership will respond to this question and describe exciting visions of how advances in their respective research themes will help tackle the grand challenges we are all facing. Royce panellists include:
Dr Andrew Hosty, CEO of the Royce, will join the panel to explore how innovation can be harnessed and to highlighting the next steps that are needed on the road to commercialisation. He will also share his expertise as part of a business Q&A session to he held earlier on day one.
Road to commercialisation: Dr Andrew Hosty
On day two of the conference, Professor Allan Matthews, Director of the BP International Centre for Advanced Materials based at The University of Manchester (which helps to support Royce's Material Systems for Demanding Environments research theme) will lead an academic session entitled:  'Accelerating innovation in the UK advanced coatings sector: Royce as a catalyst'.
Professor Matthews explained: "Surface engineering and advanced coatings are vital to the success of the UK engineering and manufacturing industries with many products – from aero engines to razor blades – using treated surfaces to boost performance and gain competitive advantage.
"A report by the KTN-led Surface Engineering and Advanced Coatings Special Interest Group identified some clear strengths for the UK – but also called on the sector to move away from the 'tried and tested' and adopt more innovative technologies."
Professor Matthews believes the Henry Royce Institute would be the ideal agent to support research innovations through the supply chain "… bringing the coatings industry up to the level of the best high value manufacturing processes in terms of aspects such as digitalisation, rapid fruition of new coatings and improved coated-product performance".
MRE-2018 is being organised by the Knowledge Transfer Network (KTN) and Innovate UK and supported by Engineering and Physical Sciences Research Council and Dstl. This unique two-day exhibition and conference will showcase the richness of the UK materials research and investment opportunities.
The event will provide the ideal opportunity to absorb current trends and take a glimpse of future innovations. Delegates will therefore have a chance to meet investors, help inform industrial strategy and network with the UK's materials community, from leading academics to spin-out entrepreneurs, from product designers to manufacturers and end-users.
Other confirmed speakers include:
Simon Edmonds  Director of Manufacturing & Materials, Innovate UK
There will be a series of seminars and workshops demonstrating the scope of current developments in advanced materials, providing the ideal opportunity to build links within the materials supply chain in a bid to strengthen the UK materials offer.
There will be a technology focus on key application areas such as aerospace, automotive, robotics, energy, health, defence and sustainable construction, as well as including value creating opportunities provided by materials design and the creative industries.
A range of UK universities, research organisations and SMEs will be exhibiting to demonstrate the wealth of materials in development from both academic and industrial research groups.
Registration for delegates is now open. For more information visit here: